(Fox Business) Bob Iger, who has returned as chief executive of the Walt Disney Company after less than a year in retirement, has a long history of cozying up to China for corporate interests while bashing conservative efforts in the U.S.
Iger's ties to China came under scrutiny after the 2020 presidential election when his name was being floated as the possible U.S. ambassador to China under President Biden. His history in China
dates back to the 1990s
, when he and then-Disney CEO Michael Eisner embarked on an apology tour in the Communist country for Martin Scorsese's biographical film about the Dalai Lama, "Kundun."
Eisner at the time called the film a "stupid mistake" and promised the Chinese that Disney wouldn't do anything in the future that "insults our friends."
Several years later, Iger was named CEO and in 2010, he reportedly met with China's propaganda minister and pledged to use the company's global platform to "introduce more about China to the world."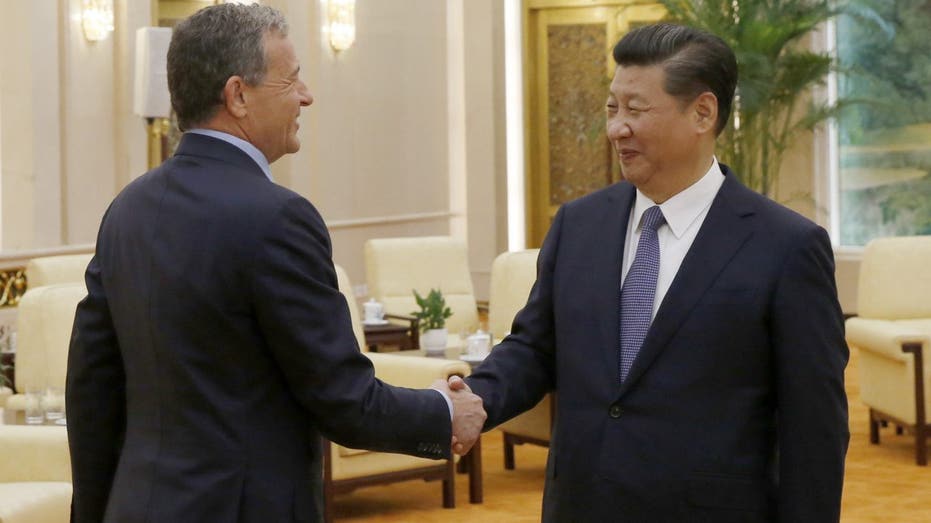 BOB IGER RETURNS AS DISNEY CEO AFTER LESS THAN A YEAR IN RETIREMENT
In January 2011, Iger attended the White House state dinner for China. In October of that same year, he was recognized by the National Committee on U.S.-China Relations for philanthropy in China. During his remarks, he said he travels to China every year to foster the country's relationship with the U.S.
"I can't think of anything that has been more satisfying or gratifying, more exhilarating than finally breaking ground for Shanghai Disneyland," Iger said during his remarks.
In September 2015, Iger attended a second White House state dinner for China and was seated next to Chinese President Xi Jinping, The New York Times reported. Later that same month, Iger was among a group of American executives who welcomed Xi in Seattle for a CEO roundtable, which was co-hosted by the Paulson Institute and the China Council for the Promotion of International Trade.
TUCKER CARLSON: BIDEN SET TO PICK CHINA PROPAGANDIST BOB IGER AS AMBASSADOR TO BEIJING
In May 2016, Iger, who was the vice chairman of the U.S.-China Business Council, flew to Beijing to meet with Xi at the Great Hall of the People.
"China will provide convenience for foreign businesses, institutions and individuals to have exchanges and cooperation with China," Xi was quoted by state media at the time.
"The Walt Disney Company highly values the cultural exchange between China," Iger was quoted saying at the time, "and the US. Shanghai Disney Resort will spare no efforts to provide safe and high-quality service for all the guests."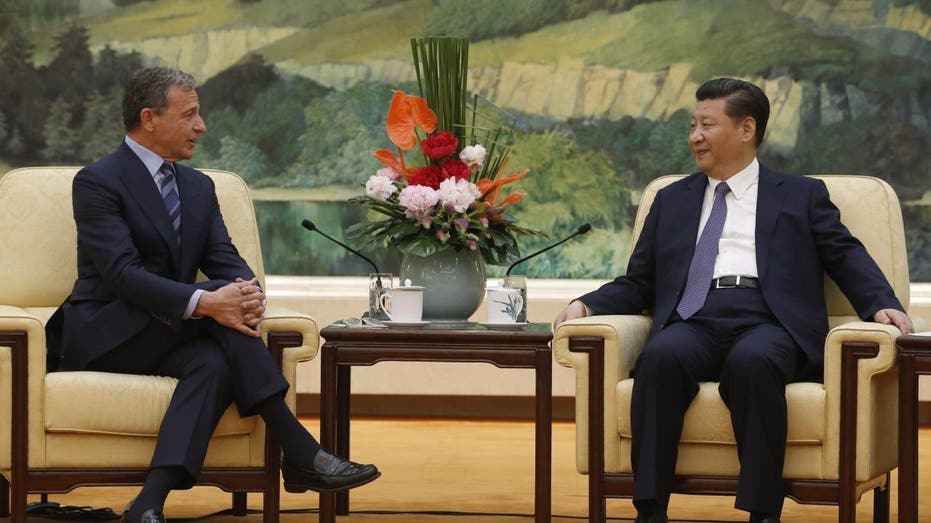 In June 2016, Disney opened the Shanghai Disneyland theme park, giving the Chinese government a 57% ownership stake in the resort and a 30% share in the Disney management company that runs the property.
Iger told CNBC after the opening that he had been working on developing a relationship with China for 17 years, and that he had "engaged with three presidents and a few premiers and a number of vice-premiers and a number of party secretaries and five or six mayors of Shanghai."
"I know from the engagement that I've had with numerous people over time, including President Xi Jinping, that they are very supportive of what we are doing here and what we have done here," Iger said, adding that Disney has "great Chinese partners" and "the approval of the government."
Disney also started working with Beijing's Ministry of Culture, and one month after Shanghai Disneyland opened, Disney released the nature film "Born in China" in the
Communist country
.
In 2019, during the Bloomberg Global Business Forum, Iger said China "welcomed us there and let us build Shanghai Disneyland."
"I, generally, at least as the CEO of The Walt Disney Company, look at China quite favorably," the CEO was quoted as saying.