(Not The Bee)
All of us have been slowly waving goodbye to low mortgage interest rates over the past eighteen months.
It seems like those rock-bottom numbers will never come back. One group, however, thinks they don't have to:
There are millions of outstanding mortgages with a 3% interest rate. A new startup says it can help today's home buyers get their hands on them. https://t.co/sl2mTgxZ8Y

— The Wall Street Journal (@WSJ) September 13, 2023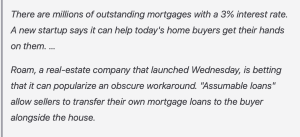 I'm sorry, "assumable loans?"
Apparently they're a real thing, though. But it's not surprising that you may be completely unfamiliar with the term. Rocket Mortgage says that "most conventional mortgages are not assumable;" it's mostly the ones backed by specific federal government programs, such as FHA loans and the like.