From ZeroHedge.com…
In the span of just over a week, CCP authorities have gone from denying plans for a citywide lockdown of Shanghai to announcing what was supposed to be a two-part staggered lockdown – to simply locking down the entire city and sending in the military and a contingent of medical workers as locals accuse the government of violating its social compact to put the people's interests first.
Now, as the entire city of roughly 26 million faces what's already shaping up to be the most punishing lockdown in China since the original three-month Wuhan lockdown nightmare, Nikkei reports that Beijing has found itself in an incredibly difficult position.
On Sunday, Shanghai counted 9,006 mainly asymptomatic infections, more than two-thirds of the national tally.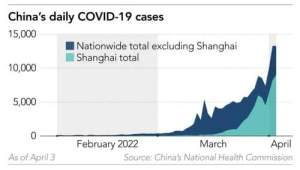 The reason the situation in Shanghai presents such a difficult conundrum is that backing down from its lockdown in Shanghai would mean admitting that the "Zero COVID" approach has been an abject failure.
But continuing with the heavy-handed lockdown risks spurring even more unrest – something the CCP has bent over backwards to avoid. For the CCP, it's an impossible dilemma.
Already, social media has been flooded with reports of locals dying from neglect as hospital resources have been stretched thin (and not from COVID; it's other ailments that are killing people now).
While the entire city has been locked down for less than a week, many individual residential compounds have been locked down for much longer – some since mid-March.