From RT.com…

If the Donetsk marketplace that was hit by rocket artillery on Thursday had been in a city controlled by Kiev, the names and faces of the five civilians killed would be on all major news sites. But because it was another Ukrainian attack on civilians in the Donetsk People's Republic (DPR), the deaths and 23 additional civilians injured will almost certainly go unreported, as has the been the norm during the regime's eight years of the Donbass and Western media's eight years of ignoring the attacks.
According to the DPR's Healthcare Ministry, "The strike at the Tekstilschik neighbourhood in the Kirovsky district killed four people on the spot. One patient died in an ambulance during the transportation."
With another journalist, I went in a taxi to the bombed markets. Two of the dead still lay at the site when we arrived, splayed on the ground. The other bodies had already been removed, but traces of their blood remained on the ground, doors nearby were riddled with shrapnel holes and debris from the strike was all around.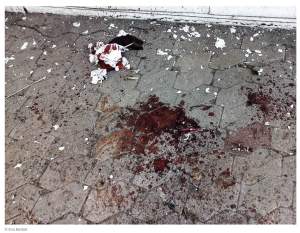 Presumably, rescue workers dealt with the injured first and didn't prioritize retrieving all the dead as further Ukrainian strikes were possible. I saw this during my experience in Gaza, where Israeli's waited for people to come to the scene of their attack, then bombed again.
According to Gennady Andreevich, a local employee of the district's safety commission, at 11:40 am Grad missiles struck two different nearby markets: the vegetable and clothing market where the bodies lay, and a household chemicals and building materials market across and down the street. The latter was far more damaged, stalls completely burnt out, but no one was killed there.
Gennady walked with us to the vegetable market, speaking about previous Ukrainian attacks–which have been happening since 2014. More recent shellings hit near a gas station outside the market, at a residential building beyond the market, and in his own market administrative building, killing two colleagues.
He noted that at this time of day the market would have been filled with people, and that Ukraine knows very well what it is firing at.
"They know there is a market here and that from 10am to 1pm there are many people here," Gennady said as we walked past shops.
This is a completely civilian area, no military installations.