(Gateway Pundit) On Sunday, Georgia Meloni became the first female leader of Italy after her Center Right Party dominated national elections.
The new leader of Italy is a conservative woman who loves God, her family, and her country.  She shared her thoughts in early 2020 at an event in Rome.
In the 15-minute speech, Giorgia Meloni shares her remarks at the God, Honor, Country: President Ronald Reagan, Pope John Paul II, and the Freedom of Nations – A National Conservatism Conference in Rome, Italy – February 3, 2020.
"Our main enemy today is the globalist drift of those who view identity and all its forms to be an evil to overcome.  And constantly ask to shift real power away from the people to supernational entities headed by supposedly enlightened elites.
"Let us be clear in our mind because we did not fight against and defeat communism in order to replace it with a new international regime, but to permit independent nation states once again to defend the freedom, identity, and sovereignty of their peoples," she said. You can watch the full video here.
Another video of Prime Minister Giorgia Meloni is making rounds online which has received 9.3 million views in just 14 hours and was praised by conservatives including Ted Cruz.
Here's why the elites and globalists are freaking out about Giorgia Meloni's victory in Italy's elections last night, below is the transcript: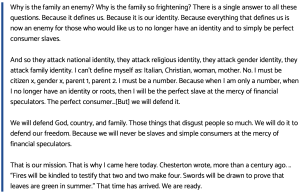 Watch the video below:
Wow. Italy's new Prime Minister Giorgia Meloni sums it up perfectly. No wonder the elites and establishment don't want her to succeed. pic.twitter.com/aYdecShaNs

— Malcolm Roberts 🇦🇺 (@MRobertsQLD) September 26, 2022