(Reclaim The Net) Twitter has long since banned users under its "misinformation" policy for making truthful statements – and legal challenges to this appear to be having an impact.
When journalist and commentator Alex Berenson settled with Twitterover his wrongful suspension from the platform, it was clear that it could open the way for more lawsuits.
Dr. Andrew Bostom threatened to sue Twitter after he got suspended for sharing a link to a peer-reviewed article published in a respected medical journal about a study that found that Covid vaccines lower sperm counts.
According to legal news outlet Legal Insurrection, he has retained the lawyer who helped journalist Alex Berenson get his account reinstated.
Boston said his account was suspended "for tweeting a link to a scientific article on COVID-19 vaccine lowering sperm counts."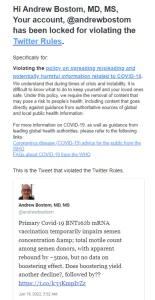 "Until this morning, I had a very active Twitter account with a large following through which I shared scientific information, as well as my personal views," he added.
"This morning (6/22/22) I awakened to learn that overnight Twitter had summarily and simultaneously locked, and then suspended my account for this 'offending' tweet from Father's Day, 6/19/22."
In the tweet that got him suspended, he shared the link to the article and wrote: "Primary COVID-19 BNT162b mRNA vaccination temporarily impairs semen concentration & total motile count among semen donors, with apparent rebound by ~5mos, but no data on boostering effect. Does boostering yield another decline?, followed by??"