(Daily Mail) Donald Trump has called for the authors and publishers of the leaked Supreme Court draft of Roe v. Wade to be locked up – unless they reveal the source of their bombshell scoop.
Addressing a rally in Robstown, Texas, on Saturday night, the former president said that the person who provided the draft decision to POLITICO for their May 3 story should be rooted out.
He said the way to get the reporters, Josh Gerstein and Alexander Ward, to reveal their sources – a fundamental violation of journalistic ethics – was to threaten them and the publishers of POLITICO with jail.
'You know in this country they leak all over the place – even on the Supreme Court,' he said.
'By the way, you have to find the leaker.'
He then called for them to be imprisoned if they refused to say who handed them the draft document.
DailyMail.com reached out to POLITICO for a response but representatives have yet to issue a comment or statement.
Donald Trump on Saturday night called for the journalists behind the May scoop about the Supreme Court decision to overturn Roe v. Wade to be locked up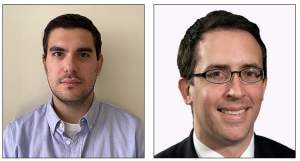 The May 3 scoop by Ward and Gerstein caused shockwaves, and sparked an investigation to find the source of their report
The former president is seen taking the stage on Saturday night in Texas
Trump supporters are pictured at Saturday night's rally in Texas
Trump supporters are pictured at the rally in Robstown, Texas, on Saturday
'You know how you find the leaker?' Trump continued.
'They say you can't find the leaker. He leaked all about Roe v. Wade.
'This person leaked from the Supreme Court – never happened.
'And they don't want to mention this as they think it's so terrible.
'You take the writer – they say they're never going to find it, they're going through phone records, it's been a long time – you take the writer and the publisher of the certain paper. And you say, who is the leaker?
'National security. And they say we're not going to tell you.
'And you say, OK, you're going to jail.
'And when this person realizes they are going to be the bride of another prisoner very shortly, he will say: I'd very much like to tell you exactly who that leaker was. It was Bill Jones, I swear he's the leaker!
'They don't want to do that. But that's the only way.'
Trump also, during the rally, gave his strongest hint yet that he would seek re-election to the White House in 2024.
The 76-year-old said he would 'probably have to do it again' referencing another run for president of the United States in 2024.
'I ran twice. I won twice. I did much better the second time than I did before,' he said.
'Getting millions more votes in 2020 than 2016 and likewise, getting more votes than any sitting president in the history of our country by far. And now in order to make our country successful, safe and glorious again, I will probably have to do it again.'
'The silent majority is back stronger than ever before,' said Trump at the close of the rally.
'My fellow citizens, this incredible journey we are on together has only just begun.'
Demonstrators carry the lead banner of the Women's March for reproductive rights in Washington DC on October 8
Women in Washington DC are seen demanding abortion rights on October 8
Activists in Washington DC demand access to abortion for all women in the U.S. on October 8
Locking up journalists for refusing to reveal their sources would put the United States in the same category of countries as China, Myanmar, Egypt and Belarus.
The Committee to Protect Journalists' annual report found that, as of December 1 2021, 293 journalists were imprisoned in 37 different countries – up from 280 in 2020.
China was far and away the worst offender, holding 50 journalists prisoner.
There were no journalists in behind bars in the United States, Canada or Mexico.