(Daily Mail) The case against Donald Trump over hush payments made to porn star Stormy Daniels in the build up to the 2016 presidential election is 'flawed', a legal scholar has said.
Jonathan Turley, a criminal defense attorney and Shapiro Chair of Public Interest Law at George Washington University, said the case by Manhattan District Attorney Alvin Bragg is unlikely to succeed.
Turley was responding to Trump's claim on Saturday that he'll be arrested on Tuesday next week following a long-running probe by Bragg's office into the $130,000 paid to Daniels.
But Turley also said Trump must 'tap down any inflammatory rhetoric' after the former president issued a call for protests amid the imminent charges. Trump had announced he'd be arrested within days and added 'PROTEST, TAKE OUR NATION BACK!'
Trump could be charged with falsifying business records in relation to payments to his former attorney, Michael Cohen, who served jail time after pleading guilty to using campaign finances in relation to Daniels. The former president could also faces charges linked to violations of election law.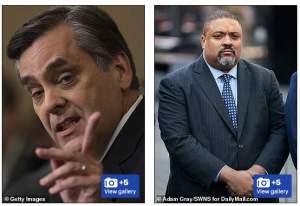 Constitutional scholar Jonathan Turley of George Washington University said the charges are expected to be brought by Manhattan District Attorney Alvin Bragg against Donald Trump are 'flawed'
Turley said: 'This is a flawed case if it is based on a state charge effectively prosecuting the federal election violation. That federal case was rejected by the Justice Department. There are also statute of limitation questions that could come into play.
'Bragg may be able to expect highly motivated judges and jurors in New York. However, the novelty and questions in this case would present difficult appellate issues for the prosecution.'
Federal prosecutors reportedly did not consider charging Trump over the payments while he was still in office because of Justice Department guidance that a sitting president can't be indicted.
They did look again at the matter after he left the White House, but opted against seeking an indictment because the issue seemed 'trivial and outdated' following the January 6 riots and scrutiny around Trump's role in stirring up that, a book from CNN legal analyst Elie Honig said.
Trump's claim on Saturday that he'll be arrested imminently comes more than six years after his lawyers paid Daniels a total of $130,000 to keep quiet about the affair. Trump denies the affair and any wrongdoing.
Trump claimed on his Truth Social account that the Manhattan DA's office will arrest him within days and branded the probe 'corrupt and highly political', calling the alleged hush money payment an 'old and fully debunked fairy-tale.'
He would become the first former president ever to face criminal charges. His post came hours after it was claimed Manhattan District Attorney Alvin Bragg was planning on indicting Trump next week.
Elon Musk, the world's richest man, responded to the development on Saturday by stating that if he's charged, Trump would 'be re-elected in a landslide victory' in the 2024 presidential election.
Stormy Daniels was paid $130,000 by Trump's lawyer to keep quiet about an alleged affair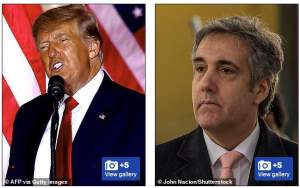 Donald Trump denies the affair with Stormy Daniels. The former president's lawyer, Michael Cohen, served jail time after he pleaded guilty to using campaign finances in relation to Daniels and another woman who allegedly had an affair with Trump