(Fox News) Violent crime is rising faster in Portland than other parts of the country, but some residents say it seems like police aren't around when they need them.
"It's like they almost disappeared," Loretta Guzman told Fox News.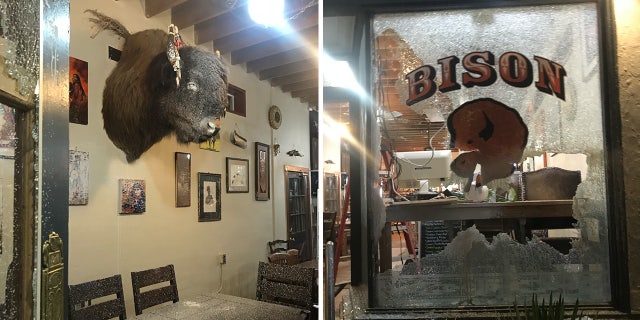 Guzman owns Bison Coffee House in North Portland, which vandals targeted in early October after advertising Coffee with a Cop. Guzman said she decided to host the event because she heard complaints about safety in the city from her customers over the past couple of years.
"A lot of people feel really unsafe," she said. "They're angry, they're sad, they're mad. They feel helpless. They feel they don't have a voice."
PORTLAND, THE SITE OF MASSIVE GEORGE FLOYD PROTESTS, HAS BEEN RAVAGED BY VIOLENT CRIME SINCE
Violent crime surged 38% in Portland between 2020 and 2021, according to FBI data, outpacing the rest of the country. Property crimes like car theft and vandalism also increased from 2020 to 2021, Portland Police Bureau data show.
Guzman's customers tell her they're frightened by people trespassing on their property and even stealing items, often while high on drugs.
"They have questions like, 'Where are the police? How come they can't come?'" Guzman said. "We used to see them all the time."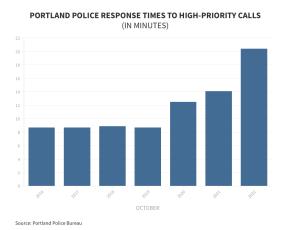 PORTLAND 'JOGGER RAPIST' SURVIVOR SLAMS OREGON OFFICIALS OVER OFFENDER'S RELEASE: THIS IS 'IRRESPONSIBLE'
The average response time for a high-priority call was 20.4 minutes in October, according to PPB data, the slowest it has been in at least six years. PPB defines high-priority calls as those in which people or high-value property are in immediate danger.
"We have felt that the police have, you know, checked out or failed us for a while," said Michael Fesser, founder of the Portland nonprofit Going Home 2, which supports men transitioning from prison to normal life. "It seems that they have just sat back and said, 'We're not going to do anything unless it's a dead body.'"
A survey of Portland residents released earlier this year found 51% of respondents doubted a 911 call would be answered quickly.
PORTLANDERS TAKE PRECAUTIONS AS CITY ROCKED BY CRIME: