(Fox News) Law enforcement officers are leaving their jobs "at a rate we've never seen before," with some departments seeing decreases by as many as hundreds of members compared to the same time last year, a handful of the nation's top police officials said.
National Fraternal Order of Police (FOP) President Patrick Yoes sounded the alarm during the third annual Faith & Blue conference in Washington, D.C. on Tuesday, when he told about 100 law enforcement officials, community leaders and reporters: "I want to signal a crisis."
"We see law enforcement officers leave our profession at a rate we've never seen before," Yoes told the crowd. "Our profession is dependent on the best and brightest stepping up and taking this job. And because of the actions, and because of the turmoil that has happened in the last two years, we have a crisis right now in manpower."
Top representatives from 19 local, state and federal police agencies – including Secretary Alejandro Mayorkas from the U.S. Department of Homeland Security – convened Tuesday to announce plans for the 2022 National Faith & Blue Weekend, which is scheduled for October 7 through October 10. The event encourages conversation and communication between faith groups, law enforcement agencies and the communities, and has garnered support from some of the biggest names in law enforcement in doing so.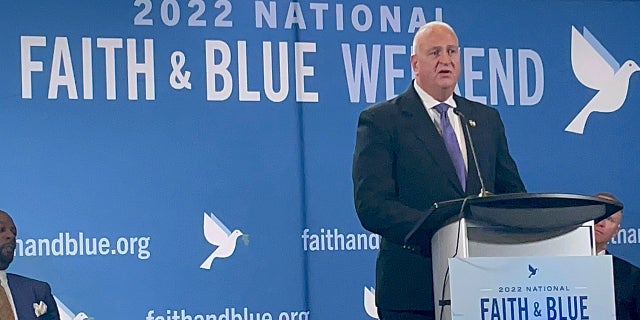 When asked about retention and recruitment on Tuesday, Rev. Markel Hutchins, the event's lead organizer and MovementForward CEO, said law enforcement agencies "will not be able to recruit or retain or attract new talent if police officers continue to have to work under the circumstances and situations that they're working under now.
"The stresses and the anxiety that's caused by the tensions that we've seen have driven the law enforcement professionals away," he went on. "There is no way to reduce crime and there is no way to attract new talent in law enforcement if we don't change the discussion and shift the narrative again away from the points of conversation that divide us."
More than 210 police and law enforcement officers have been shot in the line of duty so far this year as of July 31 – up 14% from the same time last year, according to data provided by the FOP earlier this month.
Deaths of officers in the line of duty jumped by 55% from 2020 to 2021, with the majority succumbing to COVID-19-related illness, according to statistics from the National Law Enforcement Officers' Memorial Fund. And data released last week by the Major Cites Chiefs Association shows homicides in big cities have surged by 50% since 2019.
"Unfortunately, we find ourselves in a very difficult time in American history in the last two years. America's law enforcement has been demonized by many. It has created a rift within this country and eroded the very trust of the institution and the profession of law enforcement," Yoes added during his address to the crowd. "And we're paying for it. We're paying for it in our communities with higher crime. And we're also paying for it in law enforcement officers."