(Fox News) Georgia's Democratic gubernatorial nominee Stacey Abrams has paid out hundreds of thousands of dollars for private security through her campaign since December 2021 when she launched her second bid for governor, despite being a board member of a foundation that wants to abolish police and personally backing an anti-police initiative.
Between December 2021 and April 2022, Abrams' campaign doled out over $450,000 to Executive Protection Agencies (EPA Security), an Atlanta-based private security firm. The company's website says the group provides executive protection that comes with a "keen eye with a thorough knowledge of the venue through threat assessment" for its clients.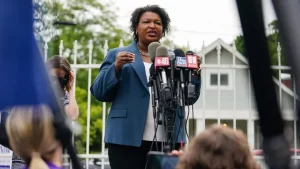 The nine payments from the Abrams campaign to EPA Security ranged from $39,335 to $56,760.
This is not the first time Abrams has paid for private security. The Fair Fight PAC, a committee that is part of a network launched by Abrams, spent more than $1.2 million on security services last year with the same firm as the Abrams campaign, according to filings.
Abrams recently insisted to Axios that she supports increased police funding and officer pay as her role with the Seattle-based Marguerite Casey Foundation has become a political liability.
Over 100 sheriffs in the Peach State condemned Abrams over her ties to the foundation and her "soft-on-crime policies," which followed Gov. Brian Kemp calling on her to resign from its board. The attention follows numerous Fox News Digital reports on her involvement with the group.
The Marguerite Casey Foundation has repeatedly voiced support for defunding and abolishing the police, Fox News Digital previously reported.
They have also awarded millions to professors and scholars who advocate anti-capitalist and prison abolitionist views.
"I do not, and have never said, and have never supported defunding the police," Abrams told Axios while emphasizing that she has no control over the group's grants as a board member.
However, Abrams backed an expanded anti-police initiative from the foundation shortly after joining its board in early May 2021, 
Fox News Digital also reported
.