(USA Today) Travis McMichael, who fatally shot Ahmaud Arbery and is serving life in prison for murder, on Monday was again sentenced to life in prisonplus 10 years on federal hate crime charges.
His father, Gregory, and their neighbor William "Roddie" Bryan, who were also convicted of murder, were set to be sentenced Monday afternoon. A jury in February found that the three men, who are white, violated Arbery's civil rights and targeted him because of his race. Arbery was Black.
Travis McMichael, 36, will serve his federal sentence concurrently with his state murder sentence. U.S. District Court Judge Lisa Godbey Wood denied a request from McMichael's attorney to allow him to serve time in federal prison, citing a rule that typically requires defendants to serve their sentence in the jurisdiction they were first arrested, tried and convicted.
Arbery's parents on Monday asked the judge to impose the maximum sentence and objected to the defendants' requests to serve their sentence in federal prison rather than state prison, where conditions are seen as tougher.
Travis McMichael declined his chance to address the court.
Arbery, 25, was killed on Feb. 23, 2020, after the McMichaels grabbed guns and jumped in a truck to chase Arbery after spotting him running past their home outside Brunswick. Bryan joined the chase in his own truck, helped block Arbery's escape and recorded cellphone video of Travis McMichael shooting Arbery at close range as the men struggled.
Prosecutors in the federal trial, which lasted a week, included evidence they said showed the men killed Arbery out of racial animus, which included their use of racial slurs and repeated racist characterization of Black people who committed alleged crimes. Defense attorneys argued the McMichaels and Bryan pursued Arbery not because of his race but because of an earnest — though erroneous — suspicion that Arbery had committed crimes in their neighborhood.
The McMichaels and Bryan were found guilty of one count each of interference with rights and attempted kidnapping in February. The McMichaels were also convicted of one count of using, carrying and brandishing — and firing, in Travis McMichael's case — a gun during and in relation to a crime of violence.
Arbery's killing helped fuel a nationwide racial reckoning over the killings of unarmed Black people including George Floyd in Minneapolis and Breonna Taylor in Kentucky, two cases that also resulted in federal charges.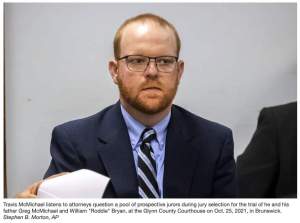 Hate crime sentences not just symbolic
Although the defendants are already serving a life sentence, experts have said the federal conviction in Arbery's death are not just symbolic. The additional sentences ensure they will serve prison time even if their murder convictions are overturned on appeal.
Unlike the state murder charges, federal hate crime convictions also acknowledge the racist motivations of what many called a modern-day lynching, experts said. Experts have also said the case shows the Justice Department is taking prosecuting crimes motivated by hate more seriously.
Although hate crimes reports have risen in recent years, the offenses are rarely prosecuted. Just two people were convicted of federal hate crimes in Georgia from 2005 to 2019, according to the Bureau of Justice Statistics. Georgia did not have hate crime legislation until after Arbery's death.