From TownHall.com…
You may vaguely recall that about a month ago, another venue backed out of hosting the event in question, citing a misalignment of "values" with Florida's governor.
Ron DeSantis was slated to speak to the Jewish Leadership Conference at the Museum of Jewish Heritage, but museum officials decided that the event would not foster a spirit of "inclusivity," so they abruptly decided to effectively DeSantis as a speaker.  The leaders of the host organization described what happened in the pages of the Wall Street Journal on May 5th, framing it as an ideological ultimatum:
The piece went on, exposing the decision-makers at the museum to be hypocrites and liars: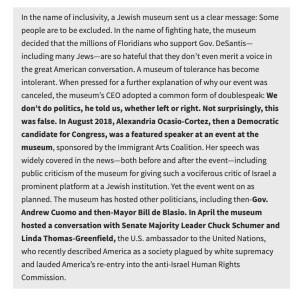 AOC — who is an ally of the anti-Semitic 'BDS' (boycott, sanction, divest) movementagainst Israel, and who has enthusiastically befriended with some of the most virulent anti-Semites in Congress — was a welcome political speaker at this venue.
Prior to her remarks at the venue, she wavered on whether Israel has a right to exist at all.  Other leftists politicians had also spoken there. But Ron DeSantis, a frequent target of progressive wrath, just couldn't be countenanced. The museum 'doesn't do politics,' you see, except when it does.  Writing in the New York Post on May 8th, Florida transplant and former New Yorker Karol Markowicz teed off: