From ThePostMillennial.com…
Uniformed Antifa militants were discretely filmed unloading supply cars filled with riot gear in downtown Portland during an armed occupation last month. The Antifa took care to conceal the license plates of their supply vehicles but The Post Millennial can exclusively report out the identities of the vehicles' registrants.
Peter Nathanael Hopkins, 36, of Portland, is the registered owner of a red 2015 Honda Fit with taped over Oregon plates that was allowed inside the Antifa autonomous zone at Southwest Naito Parkway and Salmon Street. Hundreds of Antifa, many who were openly armed with rifles and wearing military-style clothing, gathered on the morning of Aug. 22 in downtown Portland and later blocked off the road using barricades. Police stayed away.
Hopkins' vehicle was used to disperse a stockpile of riot shields. The driver was dressed in black bloc, covering his face with a black mask and sunglasses. Several Antifa militants, also in black bloc and holding an Antifa flag, stood around the vehicle to unload the riot gear and to block the front and back license plates using black umbrellas.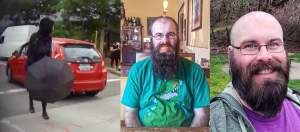 Hopkins' social media profile is filled with far-left misinformation and anti-capitalism propaganda.