(Fox News) Energy Secretary Jennifer Granholm was heavily criticized Friday after a Fox News Digital report showed she spoke twice with a top Chinese government official before the White House announced plans to tap emergency oil stocks.
According to internal Department of Energy (DOE) calendars obtained by Americans for Public Trust, Granholm consulted China National Energy Administration Chairman Zhang Jianhua, a senior member of the Chinese Communist Party, Nov. 19, 2021, and two days later on Nov. 21, 2021.
On Nov. 23, 2021, the White House announced a release of 50 million barrels of oil from the Strategic Petroleum Reserve (SPR).
"Before telling the American people of their plans to undermine our energy security by draining the SPR at record rates for political purposes before the midterm elections, Secretary Granholm reportedly first secretly consulted with the Chinese Communist Party," House Energy and Commerce Committee Chair Cathy McMorris Rodgers said in a statement.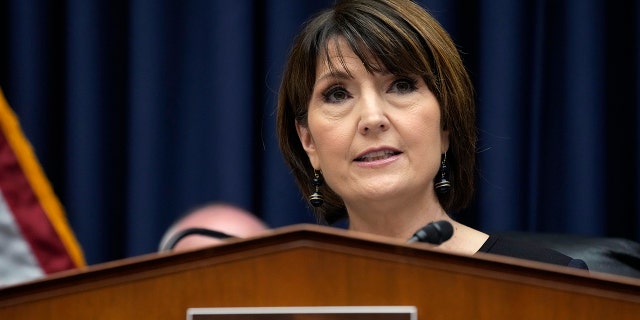 "Since then, DOE — under her leadership — has sold millions of barrels of oil from our SPR to China — the world's biggest polluter," she added. "It would appear Secretary Granholm meant it when she said America should 'learn' from what China is doing."
In March, during an interview at the annual SXSW conference in Austin, Texas, Granholm remarked that China is "very sensitive" about climate change and that the U.S. should "learn from what China is doing" on the issue. The energy secretary also lauded China for investing "a lot in their solutions to achieve their goals," triggering numerous rebukes from Republicans.
McMorris Rodgers added Friday that her committee would demand "answers and full transparency" from Granholm. And McMorris Rodgers reiterated the importance of Congress passing the Protecting America's Strategic Petroleum Reserve from China Act, which would ban the federal government from selling any petroleum product reserves, including those from the SPR, to Chinese entities.
"The Biden administration secretly colluded with the Chinese Communist Party to help lower energy prices in China while hardworking American taxpayers were left to pay more at the pump here at home," House GOP Majority Leader Steve Scalise, R-La., said Friday. "They always put America last."
"Why does communist China have more input on U.S. energy policy than the American people under the Biden administration?" Rep. Mike Collins, R-Ga., added.