(Gateway Pundit) A new poll from Rasmussen shows that Abe Hamadeh, Kari Lake, and Mark Finchem were exceedingly popular among voters in the 2022 General Election, and it was likely stolen from them all when over 59% of machines malfunctioned and failed Republican Election Day voters.
This was clear election sabotage, and it was thrown in our faces by Maricopa County attorney Tom Liddy who blamed Republican voters for choosing to vote on election day, telling them, "Your reap what you sow."
The Gateway Pundit reported yesterday that Rasmussen polled American voters from every party and discovered that an outstanding 55% of voters believe that Republican politicians in Washington D.C. worked secretly with Democrats to keep President Trump from being reelected in 2020.  67% of Republicans also believe this to be the case. President Trump won by a landslide in terms of favorability.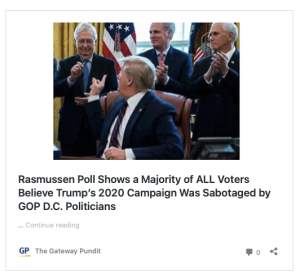 Mark Mitchell from Rasmussen told Steve Bannon yesterday that Rasmussen was going to have "more explosive stuff coming out of Arizona" on Friday.
👀 Rasmussen: "We're gonna have some more explosive stuff coming out of Arizona. I think tomorrow." 👀 https://t.co/XEKq1ThTKs

— Kari Lake (@KariLake) March 16, 2023
Tomorrow AM: Arizona Election Integrity https://t.co/RtxTj3Ig1w pic.twitter.com/vHmRkLrH4C

— Rasmussen Reports (@Rasmussen_Poll) March 17, 2023
The new explosive poll just hit the airwaves, and with 95% confidence and a 3% margin of error, the results show that the election was rigged and stolen from the Trump-Endorsed candidates for Arizona's statewide positions.
Rasmussen asked voters who they chose in the 2022 Election and discovered that Kari Lake likely had 51% of support to Katie Hobbs' 43%, Abe Hamadeh had 49% to Kris Mayes' 43%, and Mark Finchem, who supposedly lost by 120,000 votes, had 46% of support among all voters to Adrian Fontes' 43%.
The results are as follows: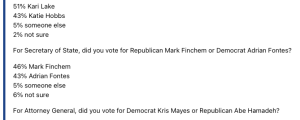 The Gateway Pundit has reported on the ongoing legal challenges by Lake and Hamadeh. Mark Finchem was recently hit with sanctions by a corrupt RINO Doug Ducey-appointed judge for challenging his race.
Kari Lake gave the following statement to The Gateway Pundit ahead of this major release: