From DailyCaller.com…
With former President Donald Trump publicly flirting with a 2024 presidential run, those close to him believe he'll end up taking the plunge – and the 2020 election will almost certainly be thrust back into the spotlight.
Trump has been laying the groundwork for a 2024 campaign, hosting rallies across the country reminiscent of his 2016 campaign and announcing a slew of endorsements heading into the midterms. Still, in true Trump style, he's yet to give a definitive answer on whether he'll actually run.
For people close to the former president or familiar with his team's thinking, it seems obvious: Trump is heavily leaning towards running again. The following report is based on interviews with a half-dozen Trump associates – two former Trump administration officials, three people familiar with the president's thinking and one person familiar with the Trump team's thinking – speaking on condition of anonymity in order to discuss privileged conversations.
Trump's health and how the midterms elections play out are two key factors in a possible 2024 run. Trump's already given a public nod to the health aspect, telling The Washington Post in April that "you always have to talk about health."
As for the midterms, Trumpworld believes the overall results – and not necessarily how individual Trump-backed candidates do in the primaries – will play a massive role in whether he'll run again.
"If the Republicans take the House and the Senate, Donald Trump will run. If we take the House OR the Senate, Donald Trump will strongly consider running. If we take neither of them, he will not run," a person familiar with Trump's thinking said.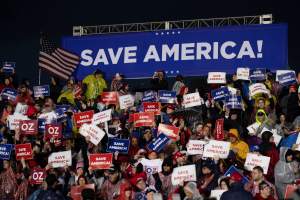 Much of Trumpworld also views President Joe Biden as a key player in Trump's 2024 plans.
"If Biden really does run again, [Trump's] running without question," a former senior Trump administration official said.
Many who spoke with the Caller highlighted Biden's low poll numbers and various crises that the country is currently battling under his administration, saying that Trump is more likely to run if the current president continues on what's viewed as a disastrous path. In fact, this aspect has already been considered, one individual noted.