(Daily Mail) Joe Biden has shipped five million barrels from the United States' Strategic Oil Reserve abroad, after claiming that releasing them would help ease Americans' pain at the pumps.
The president faces accusations of a sneaky sleight of hand as it was revealed that between a fifth and a sixth of the reserve oil he bragged about releasing to boost supply made its way offshore to Europe and Asia in June.
Biden authorized the release of a million barrels a day from April onwards. But his action has done little to combat soaring gas prices, with the national average sitting at $4.74 as of Tuesday – still far above the $2.28-a-gallon average from just before he took office.
Biden's announcement about releasing the oil barrels was made in April, and saw him say: 'These releases will put more than one million barrels per day on the market over the next six months, and will help address supply disruptions caused by Putin's further invasion of Ukraine and the Price Hike that Americans are facing at the pump.'
But it has had little effect, with a closer look at the press release revealing that the oil released from the strategic reserve was always destined for the highest bidder – even if they were overseas.
That is due to strict international rules dictating the sale and supply of oil – although a regular American who listened to Biden's proclamation in passing would likely have believed that the increase in supply would have been destined for domestic refineries, to lower US prices.
'Crude and fuel prices would likely be higher if (the SPR releases) hadn't happened, but at the same time, it isn't really having the effect that was assumed,' said Matt Smith, lead oil analyst at Kpler.
Government officials continue to defend Biden, and claim domestic gas prices would be even higher were it not for his release.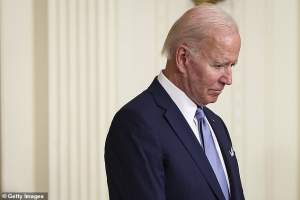 Biden declared that he had authorized the largest-ever release of oil from the Strategic Petroleum Reserves (SPR), to put one million additional barrels on the market per day on average, every day, for the six months from April.
'With these announcements, President Biden is demonstrating both his unwavering commitment to doing everything in his power to ease the pain American families are facing today at the pump as a result of Putin's Price Hike, while continuing to take strong action – right now and without delay – to achieve lasting American energy independence,' the White House said in a statement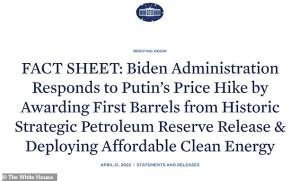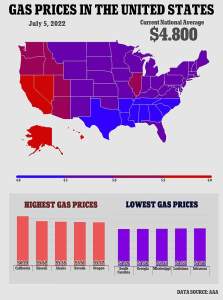 U.S. crude futures are above $105 per barrel and gasoline and diesel prices above $5 a gallon in one-fifth of the nation.
Biden on Saturday renewed a call for gasoline suppliers to cut their prices, drawing criticism from Amazon founder Jeff Bezos.
Bezos said Biden's words displayed an apparent ignorance of America's free-market economy, where demand and supply always dictates the prices of goods.
But while the flow is draining the SPR, which last month fell to the lowest level since 1986, a significant percentage is flowing abroad.
The fourth-largest U.S. oil refiner, Phillips 66, shipped about 470,000 barrels of sour crude from the Big Hill SPR storage site in Texas to Trieste, Italy, according to U.S. Customs data obtained by Reuters.
Trieste is home to a pipeline that sends oil to refineries in central Europe.
Atlantic Trading & Marketing (ATMI), an arm of French oil major TotalEnergies, exported two cargoes of 560,000 barrels each, the data showed.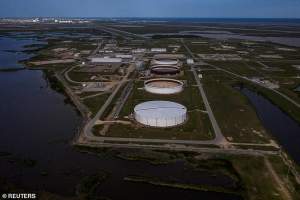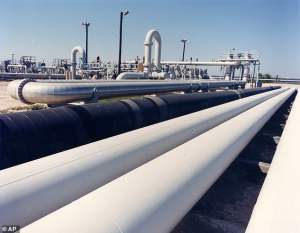 Phillips 66 has not responded to DailyMail.com's request for comment. ATMI did not respond to a request for comment.
Cargoes of SPR crude were also headed to the Netherlands and to a Reliance refinery in India, an industry source said.
A third cargo headed to China, another source said.
At least one cargo of crude from the West Hackberry SPR site in Louisiana was set to be exported in July, a shipping source added.
U.S. officials have defended their actions, saying that oil prices could be higher if the SPR had not been tapped.
The latest exports follow three vessels that carried SPR crude to Europe in April, helping replace Russian crude supplies.
U.S. crude inventories are the lowest since 2004 as refineries run near peak levels.
Refineries in the U.S. Gulf coast were at 97.9 percent utilization, the most in three and a half years.
On Monday, U.S. energy producers hit back at Biden after the president tweeted that 'companies running gas stations' should simply 'bring down the price you are charging at the pump'.
Biden tweeted from his official White House handle on Saturday: 'My message to the companies running gas stations and setting prices at the pump is simple: this is a time of war and global peril.
'Bring down the price you are charging at the pump to reflect the cost you're paying for the product. And do it now.'
The U.S. Oil & Gas Association replied: 'Working on it Mr. President.
'In the meantime – have a Happy 4th and please make sure the WH intern who posted this tweet registers for Econ 101 for the fall semester.'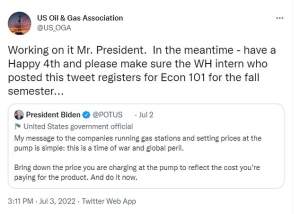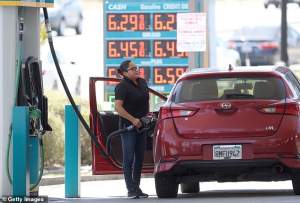 Bezos said Biden's remarks amounted to 'either straight ahead misdirection or a deep misunderstanding of basic market dynamics.'
'Ouch. Inflation is far too important a problem for the White House to keep making statements like this,' the US billionaire tweeted on Saturday.
Gasoline prices at the pump have become a symbol of broader price rises in the United States, and they are sapping Biden's approval rating ahead of midterm elections in November.
Biden has regularly attacked oil companies, saying they only care about profits and not the well-being of the average consumer.
The companies say in turn they have increased production to try to tame prices but that these are set on the world market and are subject to dynamics that are not under the control of US oil giants.
The Biden administration, in turn, hit back at Bezos on Sunday, with John Kirby, the National Security Council Coordinator for Strategic Communications, saying his boss would take 'great exception' to being accused of misdirecting the American people.
'The American people are facing pain at the pump, clearly, now we're at what – $5 per gallon? And the president is working very, very hard across many fronts to try and bring that price down,' Kirby told Fox News.
He highlighted Biden's initiatives toward lowering gas prices in recent months, all of which had done little to abate the surge that only subsided within the last three weeks.
Working with G7 leaders toward a price cap on Russian oil, releasing record numbers of oil the US's Strategic Petroleum Reserve and calling on Congress to pass a three-month summer gas tax holiday are the measures Kirby listed.
'If everybody cooperates on this, we can bring the price down at least by about a dollar a gallon,' he claimed.
Kirby said Biden 'knows the impact high gas prices have on the American household.'
Asked specifically about Bezos' 'misdirection' accusation, Kirby said 'anybody who knows President Biden knows he's plainspoken.'
'He tells you exactly what he's thinking and in terms that everybody can understand,' Kirby said.
'So I think we obviously take great exception at the idea that this is somehow misdirection.'