(Not The Bee) On Monday afternoon, reports of an active mass shooting in Atlanta made headlines and America braced for the worst.
After all, the media had wall-to-wall coverage of a white hillbilly who shot up an Atlanta Asian massage parlor in 2021, an incident that launched long articles on the scourge of white supremacy and the need for gun control.
I imagine we won't see the same level of coverage after police caught the newest suspect in this new mass shooting:
A black female suspect has been apprehended at Hartsfield-Jackson International Airport in the deadly mass shooting earlier today in midtown Atlanta, Ga. Two were killed. @MARTAPolice had earlier said the suspect's name is Raissa Kengne. pic.twitter.com/S9P06joIWa

— Andy Ngô 🏳️‍🌈 (@MrAndyNgo) August 22, 2022
The suspect, Raissa Kengne, is a black female professional who worked as an information security auditor for a major accounting firm in downtown Atlanta. She describes herself on LinkedIn as having "over ten years of combined experience in Information Technology (IT) auditing, financial analysis, mergers and acquisitions, IT due diligence, restructuring, financing, real estate transactions, estate tax planning for high net worth individuals, private companies and public companies across several industries."
She allegedly shot three people, two of whom have died. The deceased, Michael Shinners, 60, and Wesley Freeman, 41, were both former colleagues listed as defendants on a legal complaint that was filed in May by Kenge.
She alleged that both men, and her former employer at large, had broken into her apartment to steal files and hack her computer after she filed a whistleblower report of the company with the SEC to detail criminal violations.
Here are some of her posts on LinkedIn: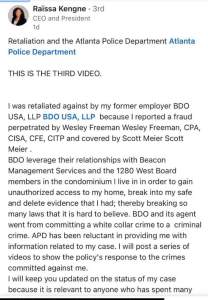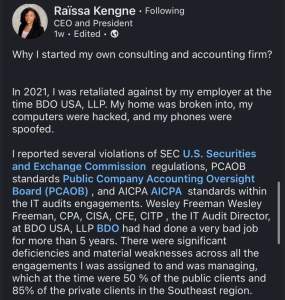 More on the legal complaint she filed from The Independent:

She also posted this video of her talking to the Atlanta police, who seemed to give her the runaround (notice how people are framing this as the police's fault because the system failed her):
Clearly @AtlantaPolicee didn't want to help #RaissaKengne if someone broke into my home and stole the evidence I needed to charge a corporation with a crime you bet your ass I would be pissed! She went to far but Atlanta Police 👮🏼‍♂️ could have prevented this! #videomattpresents pic.twitter.com/yylv22HG17

— Off Topic Podcast with Host Video Matt (@OffTopicShow2) August 23, 2022

Apparently, Kenge went to her former employer the day before the shooting and had some kind of incident that led to this exchange with a security officer where she said, "Whatever happens, happens."
Midtown Atlanta Shooter "Raissa Kengne" says "whatever Happens, Happens," day before she killer her former manager #midtownatlanta #videomattpresents #raissakengne #news #breakingnews #wesleyfreeman #scottmeier #murder #death #kengne #midtownatlantashooting #america #shooting pic.twitter.com/61fSJHzB8u

— Off Topic Podcast with Host Video Matt (@OffTopicShow2) August 22, 2022