Dr. Christina Parks testified about this very phenomena with FLU/COVID vaccines in August 2021 in front of the Michigan House of Representatives.
(Not The Bee) Well, this is kind of, um, unexpected for a mainstream American newspaper:
An important piece on vaccines and variants by @AllysiaFinley in WSJ.

Her final sentence: "Why doesn't that seem to worry the experts?" is the $64,000 question. https://t.co/fmi3Ehepve

— Senator Ron Johnson (@SenRonJohnson) January 2, 2023

I'm gonna need to put on my trusty ol' spectacles for this one:
Here's the basic, simple gist of it: The vaccines as originally rolled out were meant to target one specific variant of COVID-19. But "when new and markedly different strains come along, the immune system responds less effectively:"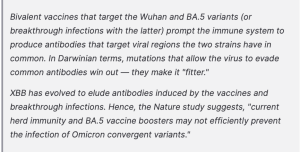 Got that? Not only can XBB evade the vaccines, it can evade antibodies from the infections people got from earlier breakthrough infections. It's an apparent cascading failure of vaccination.