From ThePostMillennial.com…
Tesla and Space X CEO Elon Musk liked a tweet that speculatively outlines his vision for Twitter, after the announcement yesterday by Twitter CEO Parag Agrawal that the billionaire Musk, who recently became the largest shareholder at the tech giant, would not be joining the board of directors despite the board's invitation.
The tweet, by TankTDS, says that Elon became the largest shareholder for "Free Speech."
"Elon was told to play nice and not speak freely," the tweet, liked by Musk, says.
Elon has decided not to join our board. I sent a brief note to the company, sharing with you all here. pic.twitter.com/lfrXACavvk

— Parag Agrawal (@paraga) April 11, 2022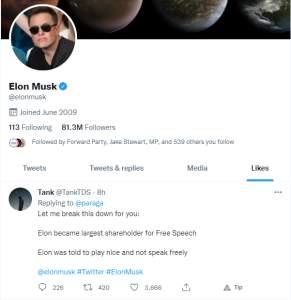 Musk declined the offer, as he would have been constrained to just 14.9 percent stock had he accepted, and would only have 1/12 of a vote at board meetings, joining the other 11 members on the board.