(PM.) Tulips Bar in Fort Worth, Texas hosted an event on Monday which included an "All Ages" Drag Show. The event, which attracted protestors outside the venue, was open to all ages, leading to calls from concerned parents that the event shouldn't be held.
Photos and video from during the show reveal that a drag queen exposed his crotch to children in the audience, while encouraging them to give cash tips to the drag queens, while waving trans flags.
Yesterday an "All Ages" Drag Show was hosted at Tulips DFW, TX.

During the show, a drag queen sat with his legs open and exposed his crotch to children in the crowd.

Children were being encouraged by parents to hand money to the Drag Queens and wave Trans flags around.… pic.twitter.com/QQQYLESdz7

— Tayler Hansen (@TaylerUSA) March 28, 2023
Tulips began posting on social media about the Sips and Quips Trivia and Drag Show hosted by Salem Moon on Sunday, scheduled for the following day. The venue's social media posts sparked backlash from commenters who criticized the fact that the show was listed as an all-ages event.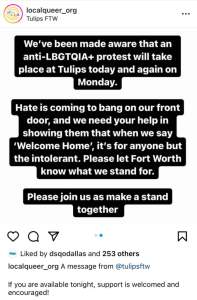 According to the Dallas Voice, Sips and Quips was previously a trivia show but became a benefit with all proceeds going to a Fort Worth-based queer youth charity. In response to the social media response, Salem Moon posted an Instagram Live video announcing plans to continue with the show and encouraging supporters to attend.
Independent journalist Tayler Hansen posted video from inside the event, which showed that one of the drag queens on stage had her crotch area visible while sitting on a stool on stage. Hansen wrote on Twitter, "Yesterday an "All Ages" Drag Show was hosted at Tulips DFW, TX. During the show, a drag queen sat with his legs open and exposed his crotch to children in the crowd. Children were being encouraged by parents to hand money to the Drag Queens and wave Trans flags around."
"This took place at an event highlighted as 'all ages'," Hansen said in a statement to The Post Millennial. "It started with Trivia and eventually turned into an explicit drag show. Three children that I counted were in attendance, all being encouraged to hand dancing drag queens money and wave trans flags. At one point the drag queen mentioned pushing back on those who don't agree with their antics, a poor choice of words considering the event that transpired earlier in the day in Nashville. For around a minute, the hosts crotch was exposed with children in the front row."
"All Ages" https://t.co/dQVdrV8s05

— Tayler Hansen (@TaylerUSA) March 28, 2023