(PM.) The Akron Police Department released graphic bodycam footage on Sunday which revealed shocking details surrounding the fatal officer-involved shooting of suspect Jayland Walker.
Jayland Walker, 25, died on Monday after Akron police officers allegedly fired more than 60 rounds of bullets into his body after evading police during a pursuit.
Akron Police Chief Stephen Mylett said during a Sunday press conference that Walker had fired at officers from his vehicle on the expressway when they attempted to make a traffic stop.
According to the bodycam footage released Sunday by Akron PD, a bright flash can be seen emerging from Walker's vehicle during the pursuit.
The second round of bodycam footage in the fatal police-involved shooting of suspect Jayland Walker that has been released by the Akron Police Department pic.twitter.com/zpnqcCFXp1

— The Post Millennial (@TPostMillennial) July 3, 2022
Akron police officers attempted to make a traffic stop on suspect Jayland Walker, which resulted in a vehicle pursuit that lasted for several minutes as he evaded police, video shows.
The suspect exited the expressway and the pursuit continued through city streets. The vehicle slowed to a stop at E. Wilbeth Rd. and Clairmont St.
BREAKING: Akron officials release video of Jayland Walker shooting at the police from his car pic.twitter.com/8NaorMcFsD

— Jack Posobiec 🇺🇸 (@JackPosobiec) July 3, 2022
Walker exited from the passenger side of the moving vehicle wearing a ski mask. Officers attempted to safely apprehend the suspect by deploying tasers, but the deployment was unsuccessful, and Walker fled on foot into a nearby parking lot, bodycam footage reveals.
While in the parking lot, the suspect came to a stop and turned his body toward officers. The pursing officers discharged their firearms, and fired more than 90 rounds towards Walker, with approximately 60 of those rounds hitting Walker in the face, upper body, and legs.
Preliminary evidence shows that #JaylandWalker shot at police before they justifiably shot him.

A loaded gun was found in the vehicle he exited, and a shell casing consistent with that firearm was found in the vicinity of where police said he fired at them.

— John Cardillo (@johncardillo) July 3, 2022
According to Chief Mylett, the officers involved immediately attempted life-saving care following the shooting but were unsuccessful. Walker died on scene. Eight officers were directly involved in the shooting, and all have been placed on administrative leave.
During Sunday's press conference, Chief Mylett said that Walker was unarmed at the time of the shooting but fired at officers from his vehicle just minutes before his death.
Video evidence shows the suspect's vehicle containing a handgun, a loaded magazine, and a gold wedding ring.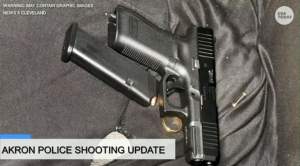 #jaylandwalker did everything necessary to get shot by police

1. Evade police in a high speed pursuit

2. Fire a pistol out of your car on the highway as you lead police on a high speed pursuit

3. Lead police on a high speed pursuit through a residential area as well

— Drew Hernandez (@DrewHLive) July 3, 2022