(100percentFedUp.com) In March 2021, Michigan's dishonest Secretary of State Jocelyn Benson was found to be in violation of Michigan election law by Michigan Judge Christopher Murray, who ruled that Michigan's Secretary of State Jocelyn Benson did, in fact, break the law when she directed city clerks to ignore the signature matching law on absentee ballots in the 2020 election.
Judge Murray wrote that Benson, on Oct. 6, SOS Benson instructed clerks who were matching signatures that they "must perform" their duties under the "presumption" that the signature is valid and uphold the signature's validity if there were "more matching features than non-matching features." Whenever possible, clerks and election officials were instructed to resolve slight differences "in favor of finding that the voter's signature was valid."
Only two weeks ago, a judge ruled against the dishonest Secretary of State Jocelyn Benson's attempt to stop a lawsuit forcing her to remove 29,000 DEAD VOTERS from the qualified voter rolls.
"It's alarming that we have to sue the Secretary of State to get her to do her job," said J. Christian Adams, president of the Public Interest Legal Foundation. "This initial win is the first step to ensuring that deceased registrants are not receiving ballots and reducing the opportunity for fraud in Michigan's elections."
PILF gave Benson plenty of time to act. The Foundation first notified the Secretary of State in 2020 about the nearly 26,000 deceased registrants on the state's voter rolls. "After over a year of inaction, PILF sued her in Nov. 2021 to force her to remove these deceased registrants from the voter roll," Adams said. "This week, we got our first win in the case."
At issue were 25,975 deceased registrants from the voter rolls.
23,663 registrants dead for five years or more
17,479 registrants dead for at least a decade
3,956 registrants  dead for at least 20 years
The United States Western District Court of Michigan denied Benson's effort to dismiss PILF's lawsuit for failing to remove deceased registrants from the state's voter roll. The court also denied the motions of two leftist groups seeking to intervene. The Detroit/Downriver Chapter of the A. Philip Randolph Institute and the Michigan Alliance for Retired Americans, and Rise, Inc. were granted an opportunity to file a reply.
"The Court concludes that oral argument is unnecessary to resolve the issues presented," wrote the judge on Aug. 25. "The court denies Secretary Benson's motion to dismiss, grants the Proposed Intervenors leave to file a reply, and denies their motion to intervene."
Now, the woman who (laughably) calls Michigan's 2020 election the safest and most secure in the state's history has been identified as one of the architects of what is quite possibly the most well-coordinated scheme to steal an election in modern history.
In 2020, at the peak of COVID, Mark Zuckerberg and his wife Priscilla Chan gave over $400 million to election groups with relatively benign-sounding names like CTCL (Center for Tech and Civic Life). The front story is that the money would be used to help facilitate safe elections during COVID. The actual story is that it was a well-coordinated scheme that gave third-party groups the ability to manipulate and ultimately affect the outcome of the 2020 election. Instead of being used on PPE, the Zuckerberg funds were instead used to "get out the vote" in critical Dem stronghold districts in swing states across America.


Priscilla Chan and Mark Zuckerberg

Until now, it wasn't clear who was behind the scandal.
The non-profit Thomas More Law Society has filed a lawsuit against MI SOS Jocelyn Benson for her alleged role in the 'Zuckerbucs' scheme that used third-party money to buy drop boxes and fund satellite voting centers, specifically in Democrat stronghold areas of Detroit.
MI Democrat SOS Jocelyn Benson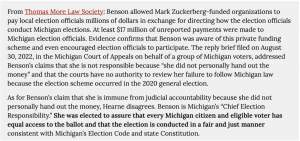 Election workers cover windows of the Detroit absentee ballot counting room to prevent GOP and Independent poll challengers who were locked out from viewing the counting process.