From Yahoo.com…
In a major blow to Donald Trump's reputation as the Republican kingmaker, Georgia Gov. Brian Kemp trounced former Sen. David Perdue in the GOP primary for governor. The double-digit blowout came despite the fact that Trump had endorsed Perdue and cleared the field of other challengers, while making Kemp his single biggest target for defeat during the primary season.
Georgia has been the object of Trump's obsession since losing the state in the 2020 presidential race and waging a conspiracy-laden and ultimately unsuccessful pressure campaign to overturn the results. Backing Perdue was the primary focus of his revenge campaign, a strategy that has now been soundly repudiated by Georgia voters.
"I want to be crystal clear with all of you here tonight: Our battle is far from over tonight," Kemp said to supporters at his Atlanta-area victory party late Tuesday evening. "Tonight, the fight for the soul of our state begins to make sure that Stacey Abrams is not going to be our governor or the next president."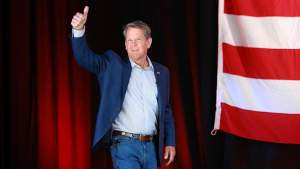 Kemp's win will reverberate in the Republican political world, including among 2024 presidential hopefuls as they continue to assess how much electoral muscle Trump will have going forward.
"This was the biggest political fight of the midterms for Donald Trump and he lost it by double digits," GOP operative and Trump critic Mike Murphy told Yahoo News. "Governor Kemp has proven that a conservative with a strong record who is not afraid to square off against Trump can not only fend off the Donald, but can actually beat the former president quite badly."
Kemp's strong showing, leading by nearly 50 points with 33% of the expected vote reported, when the Associated Press called the race only 34 minutes after polls closed, means that he avoids a runoff with Perdue and can now focus exclusively on his rematch with Democratic gubernatorial nominee Stacey Abrams, who he defeated in 2018. Abrams, running unopposed, won today's Democratic primary.