From Yahoo.com…
Karine Jean-Pierre will make history by becoming the first Black woman, and first openly LGBTQ person, to hold the job of White House press secretary, President Biden announced on Thursday afternoon.
"Jill and I have known and respected Karine a long time and she will be a strong voice speaking for me and this Administration," the president said in a statement.
Jean-Pierre will replace Jen Psaki, who was originally expected to serve for only the first year of Biden's term. New coronavirus variants and the war in Ukraine kept her in the job for several months beyond that self-imposed limit.
"She is passionate. She is smart and she has a moral core that makes her not just a great colleague, but an amazing Mom and human. Plus, she has a great sense of humor," Psaki said in a tweet of Pierre, now her top deputy in the White House press shop.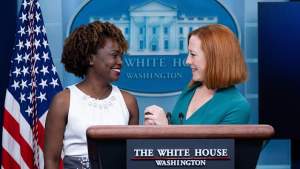 "Representation matters. She will give a voice to so many, and show so many what is truly possible when you work hard and dream big. And that matters. And we should celebrate that," Psaki said at the White House briefing on Thursday, while also touting Jean-Pierre's resume. "But I also want to make clear what all of her qualifications are. … She comes to this job with decades of experience."
Psaki's last day on the job will be next Friday, May 13. She is expected to join MSNBC as an on-air commentator.