(Fox News) Retired Rear Adm. John Kirby's willingness to engage with the press about President Biden's classified documents saga amid perceived stonewalling by White House Press Secretary Karine Jean-Pierre shows she may not be fit for her job, critics said Friday.
Kirby, who served as Pentagon spokesman under former President Barack Obama and briefly under Biden, is currently the National Security Council's coordinator for strategic communications. He often engages with the press on matters like Ukraine, Russia and China.
Kirby joined Jean-Pierre for a briefing earlier this month, and took questions from reporters including Fox News' Peter Doocy. On "The Five," host Jesse Watters quipped that Jean-Pierre "talks like a binder" and has repeated the same canned lines and purported deflections over and over.
"I'm sorry, I'm going to have to refer you to the White House counsel," he replied in jest to co-host Brian Kilmeade after being asked about Kirby's receptiveness questions about Biden's classified documents scandal.
"You can only use that line in special moments. That can't be your answer for every single question. And that's why Kirby is quality," Watters added.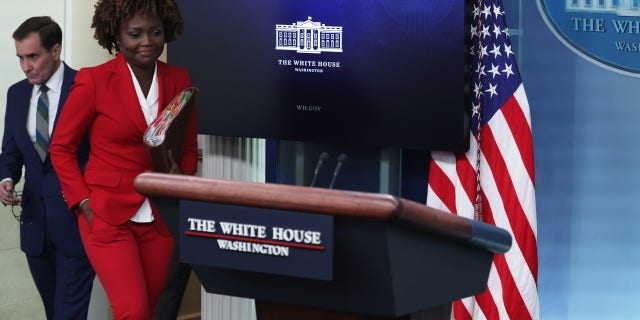 Kilmeade pointed to an exchange between Doocy and Jean-Pierre in which the correspondent referenced something Kirby had stated at a prior briefing about the Biden documents situation, to which the press secretary questioned where Doocy had heard the statement.
When Doocy indicated the source was Kirby, Jean-Pierre referred him to the White House counsel's office for any further clarification.
"Kirby has the wherewithal to be able to dance and dip appropriately and talk like a human being," Watters said. "[Jean-Pierre] can't talk like a human being. She talks like a binder."