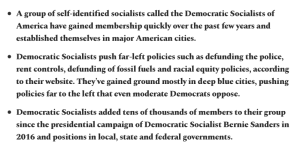 (Daily Caller) The Democratic Socialists of America (DSA) is gaining steam in recent years and has been pushing the Democratic Party to the left, particularly in deep blue cities, advocating for policies that even moderate Democrats disagree with.
Democratic Socialists make up the left flank of the Democratic Party, supporting abolishing prisons, aggressive climate policies, rent controls and radical racial equity policies, according to the Democratic Socialist website. They've been aggressively adding to their membership over the past few years, as well as gaining ground in key deep blue cities such as New York City, Los Angeles and Minneapolis, calling for radical policy changes and opposing mainstream Democrats.
The meteoric rise of the DSA came after the first presidential campaign by Democratic Socialist-endorsed Democrat Bernie Sanders in 2016, according to New York Magazine. The DSA had 6,000 members in 2015 but now boasts over 80,000 members, according to DSA Communications Director Chris Kutalik Cauthern.
Big cities in blue states are havens for Democratic Socialists, with a large number of them on city councils in deep blue cities. Recent gains in these cities for Democratic Socialists have pushed the politics of blue cities to the left.
New York City is a hotbed for Democratic Socialists, with at least six of the 51members on New York City's city council being Democratic Socialists, according to public statements and records reviewed by the Daily Caller News Foundation. There, they've attacked more moderate Democrats, like Mayor Eric Adams, who has proposed budget cuts for the city and who has also criticized Democratic Socialists and been involved with Twitter feuds with Democratic Socialist New York Rep. Alexandria Ocasio-Cortez.
New York City boasts Democratic Socialist and Democratic Councilman Chi Osse who has previously said, "A cis white man should not be the next speaker of the Council" and "Don't trust white people with 0 friends of color in their circle."
A cis white man should not be the next speaker of the Council.

— Chi Ossé (@OsseChi) June 30, 2021
Osse has gone after Adams' support for the police, frequently chiding the mayor. "Mayor Adams is choosing to invest in a militarized police force rather than in evidence-based public safety strategies," he wrote in one tweet. Osse said on the "Resistance" podcast that his motivations for becoming a city councilman were his experiences at a George Floyd protest and his desire to fight "white supremacy."
Democratic Socialist and Democratic New York City Councilwomen Tiffany Caban opposed Adams' 2023 budget, calling the proposed cuts "dangerous and cruel," in opposition to more moderate Democrats.