(The New American) It was always there, just beneath the surface.
Late radio giant Rush Limbaugh called it get-even-with-'em-ism. It's that hostility that ever underlay racial quotas and that now, being more overt, is manifesting itself in "the largest racial tracking bureaucracy since the fall of Nazi Germany."
That's how Fox News host Tucker Carlson characterized Joe Biden's new "equity"-oriented executive order (number 13985), signed Thursday and mostly ignored every day. It protects and elevates all conceivable groups in the United States — except one.
If you guessed "Straight white men," go to the head of the class.
That is, unless you're a straight white man. Then you can sit in the back of the of the electric, carbon-neutral bus to East Palestine.
One more thing: Coincidentally, I'm sure, straight white men are also the major demographic that is perhaps least likely to support Democrats.
Carlson reported on the story Friday, saying: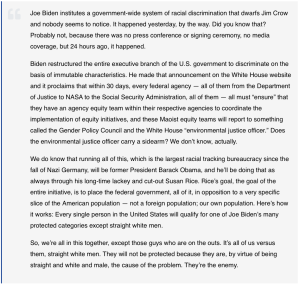 That's right, you're "a domestic enemy now," Carlson later added. "You're an English-speaking version of Vladimir Putin. The equity agenda is your personal sanctions regime."
By the way, as WhiteHouse.gov invites us to do on its executive order fact sheet, I wanted to "read more about additional [equity] steps agencies have taken." But upon clicking on their link, I got a "403 Forbidden" page. I'm no techie and am not sure why my access was denied, but maybe someone who's not a straight white male should try it.
That would include Ben LaBolt, who, White House press secretary Karine Jean Pierre boasted recently, "will be the first openly gay communications director, which is very, very important indeed," related Carlson. She didn't explain why it's important — or even why offering homosexuals affirmative action is justifiable, since they make more money than straight men do.
Oh, yeah, "equity."
Speaking of the illustrious Ms. Jean Pierre, she exemplifies the consequences of subordinating merit to equity (see video below).
But forget Canadia, because here in Americania we've got plenty of examples of "firsts," not the least of which is the first president with dementia. There's also Kamala Harris, who on Friday served up one of her (in)famous word salads (video below).