From RT.com….
Dakota Skye, the adult film star who stirred controversy after posing topless at a mural for George Floyd, has passed away at the age of 27, a family member has confirmed.
The actress, whose real name was Lauren Scott, was found dead at her Los Angeles home on Wednesday, the US Sun reported. While the exact cause of death remains unclear, a woman identifying herself as the performer's aunt said substance abuse may have played a role.
"Lauren was a product of a highly dysfunctional family involving drugs, alcohol, physical, emotional, verbal and sexual abuse," the woman, Linda Arden, told the Sun. "She died almost exactly two years after her mother's – my baby sister's – death, which was caused by addiction and alcoholism."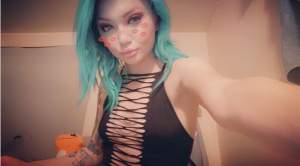 In a Facebook post mourning her niece's passing, Arden added: "If you are suffering from addiction, I beg you to get help!" She told the Sun that Scott had battled an addiction to fentanyl, a powerful synthetic opioid.