(Reclaim The Net) Amidst a growing controversy surrounding comedian Russell Brand, video platform Rumble has taken a stand against the UK government's push to penalize the content creator based on recent allegations.
Last week, The Times and Channel 4's Dispatches covered serious allegations of assault against Russell Brand. While the comedian has yet to be convicted of any wrongdoing and whether the anonymous accusers are victims is yet to be determined, several major platforms, including YouTube, Netflix, and BBC iPlayer, took swift action, either demonetizing or removing Brand's content.
"We would be grateful if you could confirm whether Mr Brand is able to monetise his content, including his videos relating to the serious accusations against him. If so, we would like to know whether Rumble intends to join YouTube in suspending Mr Brand's ability to earn money on the platform," wrote Dame Caroline Dinenage, in the brazen letter.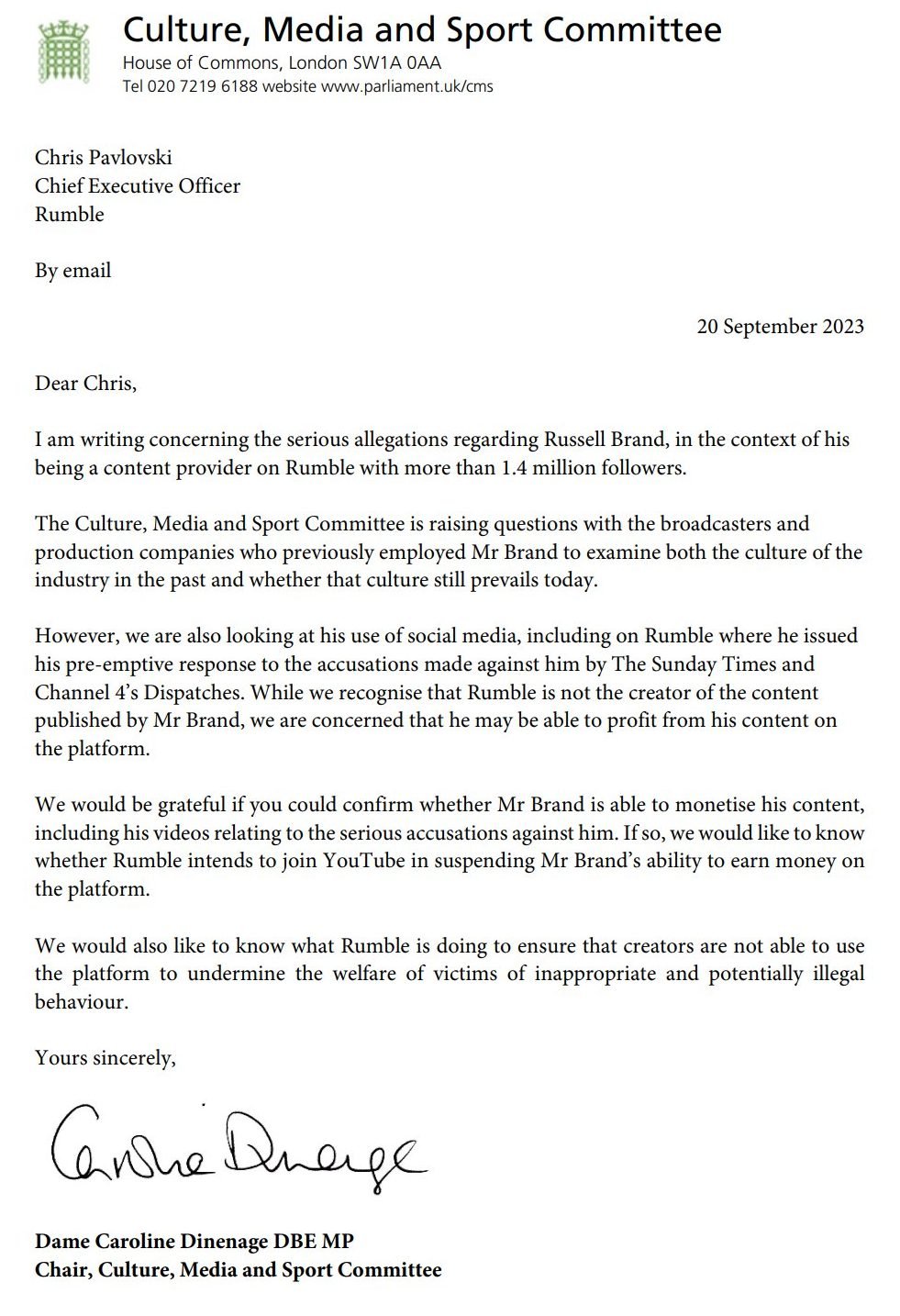 "We would also like to know what Rumble is doing to ensure that creators are not able to use the platform to undermine the welfare of victims of inappropriate and potentially illegal behaviour."
Rumble, however, has chosen a different route from the other platforms. In response to an inquiry by the UK's "Culture, Media and Sport Committee" regarding Brand's monetization on the platform, Rumble CEO Chris Pavlovski issued a statement emphasizing the company's commitment to a free internet.
In a clear stance against cancel culture and rushes to judgement, Pavlovski responded, stressing that allegations against Brand have no connection with his content on Rumble. He pointed out the importance of a free internet, "where no one arbitrarily dictates which ideas can or cannot be heard."
From Rumble CEO Chris Pavlovski:
"Today we received an extremely disturbing letter from a committee chair in the UK Parliament. While Rumble obviously deplores sexual assault, rape, and all serious crimes, and believes that both alleged victims and the accused are entitled to a full and serious investigation, it is vital to note that recent allegations against Russell Brand have nothing to do with content on Rumble's platform. Just yesterday, YouTube announced that, based solely on these media accusations, it was barring Mr. Brand from monetizing his video content. Rumble stands for very different values. We have devoted ourselves to the vital cause of defending a free internet – meaning an internet where no one arbitrarily dictates which ideas can or cannot be heard, or which citizens may or may not be entitled to a platform.

"We regard it as deeply inappropriate and dangerous that the UK Parliament would attempt to control who is allowed to speak on our platform or to earn a living from doing so. Singling out an individual and demanding his ban is even more disturbing given the absence of any connection between the allegations and his content on Rumble. We don't agree with the behavior of many Rumble creators, but we refuse to penalize them for actions that have nothing to do with our platform.

"Although it may be politically and socially easier for Rumble to join a cancel culture mob, doing so would be a violation of our company's values and mission. We emphatically reject the UK Parliament's demands."