From FoxNews.com…
MSNBC host Ayman Mohyeldin found it hysterical on Sunday when a guest declared she wanted to "make sweet love" to whoever leaked a draft decision indicating the Supreme Court could overturn Roe v. Wade and "joyfully abort" a future pregnancy.
The leaked opinion draft sparked panic among Democrats and protests against the court when it was published by Politico last week. While many progressive are happy the draft was leaked, an MSNBC guest took things a step further.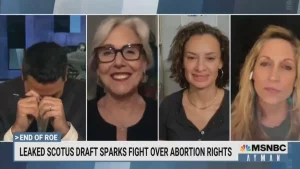 "I would like to find out who the leaker is. So I can make sweet love to that person because that person is a hero," guest Laurie Kilmartin said, prompting laughter from the MSNBC host.
"A lot of people are saying the leaker could be a conservative. If the leaker is a Republican, and if I get pregnant during our love making, I will joyfully abort our fetus," Kilmartin added.