(New York Post) The NBC peacock nabbed the gold once again.
The beleaguered Golden Globe Awards returned to the network Tuesday night after a prolonged pause dueto ethical allegations and a lack of diversity within the voting body of the Hollywood Foreign Press Association.
Among the big television winners: ABC comedy "Abbott Elementary" nabbed three wins — including the top comedy prize — and Season 2 of HBO's "The White Lotus" landed two awards, including one for beloved rambling recipient Jennifer Coolidge. HBO's "House of the Dragon," meanwhile, got top honors for "Best Television Series — Drama."
On the film side, Steven Spielberg's "The Fabelmans" and Martin McDonagh's "The Banshees of Inisherin" won top prizes for drama and comedy, respectively, with Speilberg also claiming Best Director for his film.
See the live blog entries below for all of the winners and nominees, plus some of the ceremony's buzziest moments under the watchful eye of host and comedian Jerrod Carmichael.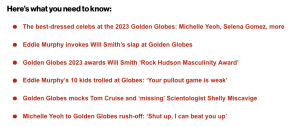 Best Motion Picture — Drama
Best Television Series – Drama
Best Television Series – Musical or Comedy
"Abbott Elementary" creator and star Quinta Brunson joins the cast onstage.

NBC
WINNER: "Abbott Elementary"
"The Bear"
"Hacks"
"Only Murders in the Building"
"Wednesday"
"I created this show because I love comedy," said creator Quinta Brunson said before saluting Henry Winkler, Bob Odenkirk and Seth Rogen in the audience. Of the latter, she joked: "I know you're probably high, but from the heart: Everything you've ever made, made me want to make comedy."
Eddie Murphy suggests non-violence is a good way of life
Eddie Murphy accepts his honor as Jamie Lee Curtis and Tracy Morgan look on.

NBC
"Saturday Night Live" alum Tracy Morgan and "Everything Everywhere All at Once" star Jamie Lee Curtis saluted six-time Golden Globe nominee Eddie Murphy, an early "SNL" star who was the recipient of the 2023 Cecil B. DeMille Award, which is presented to "a talented individual for their outstanding contributions to the world of entertainment," according to the HFPA.
"I've been in show business for 46 years and in the movie business for 41 years, so this has been a long time in the making and is greatly appreciated," Murphy said from the podium. He also offered advice to "up-and-coming dreamers and artists" in the auditorium.
"There is a definitive blueprint you can follow to achieve success, prosperity and peace of mind. There's a blueprint and I've followed it my whole career: pay your taxes, mind your business and keep Will Smith's wife's name out of your f–king mouth!" he said with a shout, in a nod to Smith's infamous slap of Chris Rock at the 2022 Oscars.
Murphy — who in 2020 nabbed an Emmy Award for Outstanding Guest Actor in a Comedy Series for guest-hosting "SNL" — is known for films including Golden Globe-nominated "Dolemite Is My Name," "Coming to America," "The Nutty Professor," "Shrek," "Dr. Dolittle," "Norbit" and "Beverly Hills Cop."