(The Points Guy) It's official. The World Health Organization (WHO) has determined monkeypox constitutes a global health emergency, calling it a "public health emergency of international concern" due to a multi-country outbreak.
But will it impact travel?
The short answer from the health experts we've talked to is "no," but let's dive into the facts.
According to the WHO, anyone who has been diagnosed with monkeypox or has signs and symptoms compatible with the virus infection should avoid any travel until they are no longer considered a public health risk.
Most of the nearly 17,000 monkeypox cases reported so far are in Europe.
Nearly 3,000 have been reported in the U.S., but the WHO and local doctors caution that these numbers may be much lower than actual figures due to underreporting.
Here's what you need to know about the latest news on the disease and what impact it may have on global travel.
What is the potential monkeypox impact on travel?
Although a monkeypox vaccine is available, there are no requirements to be vaccinated against it in order to travel. But travelers should be aware of areas with high infection rates. You can check this map to see rates by country.
"For most travelers, this should not cause alarm, but it is worth understanding the risk numbers in the travel destination," says Dr. Jenny Yu from Healthline. (Healthline is owned by Red Ventures which also owns The Points Guy). "As this is a re-emerging disease, not all healthcare providers are familiar with diagnosis and treatment, which may delay diagnosis, something to consider when traveling. People should take the necessary precautions but should not panic from a travel standpoint."
The U.K., Belgium and Germany, all with increasing monkeypox numbers, have issued 21-day quarantine recommendations for people diagnosed with the disease. However, such quarantines are thought to be inefficient for preventing its spread due to the virus's long incubation period, especially when compared to COVID-19, according to a Cowen market analysis report.
Still, monkeypox "shouldn't be an issue when traveling," says New York-based Dr. Jake Deutsch, a former emergency room physician at Mt. Sinai Hospital who now runs a private practice focused on men's health. Deutsch says most travelers shouldn't worry, "unless you're engaging in higher risk behavior while in countries with high infection rates."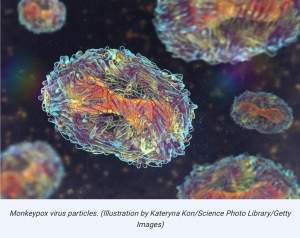 Monkeypox is a virus "characterized by a fever, swollen lymph nodes and a widespread rash," according to a guide by Healthline. The monkeypox-induced rashes can cause many unsightly and sometimes painful lesions, particularly on the face and extremities.
The monkeypox disease was first identified in the 1950s among monkeys, with the first human case occurring in the Congo in the 1970s. Before the recent outbreak, the virus was mainly active in rural regions in central and western Africa.
Symptoms of monkeypox are similar (but milder) than those of smallpox. After contracting the virus, people may suffer from fever, headache, muscle aches, fatigue and chills within five to 21 days. Then the distinctive rash and lesions can appear 1-3 days later, primarily around the face, hands, feet and genitals.
Monkeypox symptoms "generally last two to four weeks and go away without treatment," according to Healthline. There are potentially more dangerous complications in rare situations, leading to fatalities in 3% to 6% of cases in past outbreaks, according to the WHO.
However, WHO data also says the recent outbreak has only resulted in five deaths worldwide.
But in terms of the monkeypox outbreak, "what we're seeing now is only the tip of the iceberg," says Dr. Deutsch. He believes the numbers are being underreported due to the stigma around the illness and the fact that it can be sexually transmitted.
Help reduce the stigma of Monkeypox (MPV)! Anyone can get MPV, regardless of gender identity and sexual orientation. Seek medical attention if you have a few or unexplained rash and have open conversations with your sexual partners about your status and theirs. pic.twitter.com/4w88Y9o37S

— Callen-Lorde Community Health Center (@CallenLorde) July 23, 2022