From Expose-news.com…
Do you not find it curious how in the space of 50 years, monkeypox has never really gotten off the ground outside of a couple of countries in Africa, but then within two years of the alleged emergence of Covid-19, monkeypox is suddenly in every Western nation and being hyped up by public health authorities, the mainstream media and the World Health Organization?
If you don't, you won't want to read this because you may miss the latest episode of BBC News at 6 pm. But if you do, you may or may not be surprised to find that evidence suggests the alleged monkeypox outbreak could actually be a result of the Covid-19 vaccination programme.
How?
Well, it has something to do with herpes, shingles, auto-immune blistering disease and the fact that Covid-19 vaccination greatly damages the natural immune system.
Here's a map showing countries where "confirmed" cases of monkeypox have been reported to the World Health Organization (WHO) since the middle of May 2022 –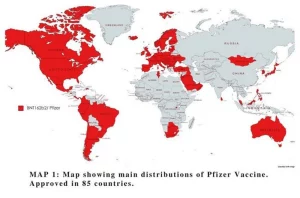 Only joking. The above is actually a map showing the main distributions of the Pfizer vaccine.
Here's the actual map showing countries where "confirmed" cases of monkeypox have been reported to the World Health Organization (WHO) since the middle of May 2022 –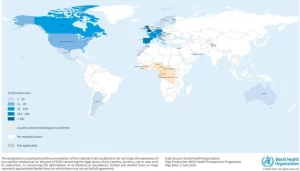 Here's both maps together so you can play a game of spot the difference with them –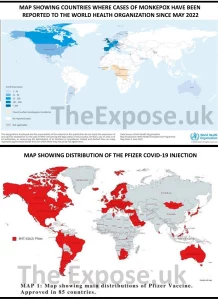 Apart from a couple of countries, there isn't really any difference, and every country that has reported alleged cases of monkeypox since May 2022 where it was not already endemic, is a country that also distributed the Pfizer Covid-19 injection.
Now, this could of course just be another coincidence in a long line of "coincidences" that have occurred since early 2020. But unfortunately, evidence suggests otherwise.
Human monkeypox was first identified in humans in 1970 in the Democratic Republic of Congo in a 9-year-old boy. Since then, human cases of monkeypox have been reported in 11 African countries. It wasn't until 2003 that the first monkeypox outbreak outside of Africa was recorded, and this was in the United States.
According to a scientific study published in 1988, between 1981-1986, 977 persons with skin eruption not clinically diagnosed as human monkeypox were laboratory tested in Zaire (now known as the Democratic Republic of Congo).
The Scientists who conducted the study stated the following –

In Layman's terms, distinguishing monkeypox from chickenpox is incredibly difficult, and chickenpox is caused by a type of herpes virus.
The chickenpox virus is technically known as the varicella-zoster virus, and just like its close relative the herpes simplex virus, it becomes a lifelong resident in the body.
And like its other cousin, genital herpes, varicella may be silent for many years, hiding out inside nerve cells and can reactivate later, wreaking havoc in the form of the excruciating skin disorder, shingles, which is a blistering, burning skin rash.
Unfortunately, or fortunately; depending on whether you chose to get the Covid-19 injection, official Government data and confidential Pfizer documents strongly suggest the Covid-19 injection may be reactivating the dormant chickenpox virus or herpes virus due to the frightening damage it does to the immune system.
This means we may not be witnessing a worldwide outbreak of monkeypox at all, but rather a huge cover-up of the consequences of administering an experimental injection to millions of people.
The US Food and Drug Administration (FDA) attempted to delay the release of Pfizer's COVID-19 vaccine safety data for 75 years despite approving the injection after only 108 days of safety review on December 11th, 2020.
But in early January 2022, Federal Judge Mark Pittman ordered them to release 55,000 pages per month. They released 12,000 pages by the end of January.
Since then, PHMPT has posted all of the documents on its website. The latest drop happened on June 1st 2022.
One of the documents contained in the data dump is 'reissue_5.3.6 postmarketing experience.pdf'. Page 21 of the confidential document contains data on adverse events of special interest, with one of these specifically being herpes viral infections.