From 100percentFedUp.com…
Pelosi once again makes an appearance on RuPaul's Drag Race to praise grown men playing dress up
Speaker Pelosi apparently has nothing better to do than go on and praise RuPaul's Drag Race.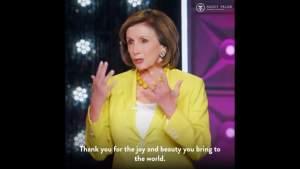 "It was an honor to make an appearance on episode 5 of RuPaul's Drag Race All Stars 7 this week. I was inspired by the contestants because they know their power. Their freedom of expression is what America is all about," Pelosi wrote in a Tweet after appearing on the show in which adult men dress as women and compete.
This comes in the wake of "Drag your kid to Pride" and a more generalized "Pride Month" push for indoctrinating children via drag queens.
Pelosi first appeared on RuPaul's show in 2018, and now appeared once again to heap praise on "what America is all about" which is, apparently, drag queens.
It was an honor to make an appearance on episode 5 of @RuPaulsDragRace All Stars 7 this week. I was inspired by the contestants because they know their power. Their freedom of expression is what America is all about. #PrideMonth pic.twitter.com/d5D7wubRKp

— Nancy Pelosi (@SpeakerPelosi) June 12, 2022