From LifeSiteNews.com….
Children are safe from COVID-19 and do not pass it on to relatives, teachers or friends. This short guide highlights the main facts that are backed up by credible mainstream sources.
COVID-19 poses no risk to children, even those in the vulnerable category. The chart below, using data from the Office for National Statistics, compares the number of deaths from young people in England and Wales in 2003 with COVID-19 in 2020. Although there have been deaths among children, those who died were already seriously ill.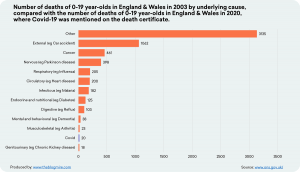 England's Deputy Chief Medical Officer, Dr. Jenny Harries says that children are at more risk from flu or car accidents. Statistically speaking, they have a greater chance of being struck by lightning than dying of COVID-19.