(Not The Bee) Remember when Meta had to apologize for making a "distinction between male and female bodies?"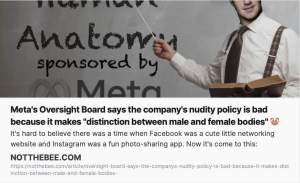 Well, good news… Meta is freeing the nipple!
Meta has been told to clarify their old-fashioned policies surrounding nudity on their social media platforms.
Meta's Oversight Board, an external body that oversees content moderation for Facebook and Instagram, is now saying the platform should allow users to display their bare breasts, BUT only if they're transgender or non-binary.
Really giving the people what they want…
This ruling comes after the controversy of removing a trans couple's topless picture, which was later reinstated.
Meta came out saying their common sense nudity policy was bad, confusing, and subjective because, clearly, no one really knows what to do about trans and non-binary folk.
Facebook has a common sense nudity policy that makes "a distinction between male and female bodies." The Oversight Board thinks this is confusing and subjective and needs to change. pic.twitter.com/1VZdqpKqjU

— Seth Dillon (@SethDillon) January 17, 2023
So, in the name of fairness and equality, trans and non-binary users should obviously be able to show their naked bodies without censorship or penalty, but real women are not.
Meta's Oversight Board has ruled that trans women and non-binary users will be now permitted to display their breasts on Facebook and Instagram, while biological females who identify as such will still be barred from showing them. | @ariblaff https://t.co/KJgeJchxZv

— National Review (@NRO) January 20, 2023
The statement from the board read:

The Oversight Board is made up of academics, journalists, and politicians who condemned the company's prior approach to flagging images of breasts because it reflected an outdated view of gender and sex.
The board said: