(Yahoo) FedEx has blown three tires before the peak holiday shipping season, and chatter on the Street is that mighty Amazon may have played a role.
"It makes sense to see Amazon to trade off with this but there could also be a competitive element going on here too," JPMorgan's Jack Atherton wrote in a note to clients. "Coincidentally, Amazon's Seller conference has been ongoing for the last 2 days which focused heavily on new features for Buy with Prime as it further tries to break down Shopify's moat. Amazon also launched free shipping software for sellers, and discounted shipping rates. Amazon has piled money into its logistics capability over the past few years, to the point it has excess capacity for its own needs and is hungry for more share which is being targeted through FBA (Fulfillment By Amazon) and could be weighing on FedEx. I'd be buying Amazon on weakness here."
FedEx served up a brutal earnings pre-announcement after the close of trading on Thursday, sending shares crashing after-hours. The logistics giant's ticker page was the most visited on the Yahoo Finance platform in the wake of the warning, underscoring the severity of the disappointment.
Rival UPS shares also fell around 7% in sympathy as investors read-through the company may issue a lackluster quarter (or pre-announcement) in October.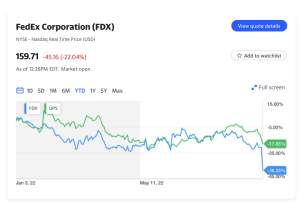 FedEx's first fiscal quarter fell quite flat.
Non-GAAP earnings: $3.44
Wall Street estimates: $5.14
The current quarter looks to have started weak, too.
Non-GAAP earnings guidance: $2.75
Wall Street estimates: $5.48
It's also worth noting…
The company withdrew its full fiscal year outlook.
Key aspects of the FedEx profit whiff:
Significant weakness in Asia and Europe.
Costs are too high given slowing economic growth globally.
Execs were just too optimistic.