From FoxNews.com…
A photo of Hillary Clinton attending the Met Gala received some brutal reaction from Twitter users on Monday evening.
The photo depicted Clinton walking the red carpet at the celebrity-studded event in a red ball gown. The failed presidential candidate was all smiles, posing for the camera without wearing a mask, while a masked African American gentleman – who appeared to be one of the event's staff – doted on her, adjusting her dress.
Critics slammed the image as the perfect encapsulation of elitist privilege. One said it looked like something out of "The Hunger Games."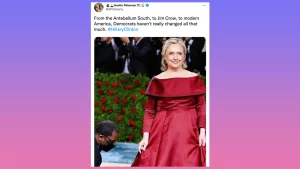 Right-wing radio host Austin Petersen remarked on what he perceived as the photo's racist connotations. "From the Antebellum South, to Jim Crow, to modern America, Democrats haven't really changed all that much. #HillaryClinton," he tweeted.
"This photo perfectly encapsulates the current state of our country," tweeted conservative commentator Kyle Kashuv.
Conservative vlogger Blaire White commented on Kashuv's post, tweeting, "This photo should be in history books that discuss Covid regulations."
Conservative radio host Ari Hoffman blasted the image, tweeting, "The elites at the Met Gala. This pic sums it up."
"Well, the leak was certainly well-timed to distract from this," wrote Gov. Ron DeSantis spokesperson Christina Pushaw, referencing the SCOTUS opinion draft leak on Roe v Wade that immediately overpowered all other news stories after it dropped Monday evening.