From ThePostMillennial.com…
On Thursday, the Twitter account @Teachers_Exposed, which made a practice of exposing woke teachers and educational indoctrination practices, was banned from the platform.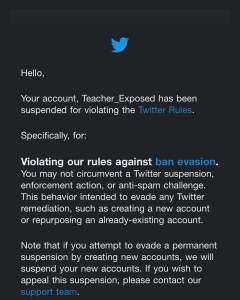 Speaking with The Post Millennial, the owner of the account, who requested to remain anonymous, said that they previously had a parody account banned from Twitter at the beginning of November, but was able to open up the Teachers Exposed account shortly after without issue.
They said that the account had not received any violation leading up to the ban.