From ThePostMillennial.com…
Charlie Kirk, founder of TPUSA, talk radio host and outspoken conservative commentator, was suspended from Twitter on Tuesday after identifying President Joe Biden's assistant health secretary in the Department of Health and Human Services as a man.
"Richard Levine," Kirk wrote, "spent 54 years of his life as a man. He had a wife and family. He 'transitioned' to being a woman in 2011, Joe Biden appointed Levine to be a 4-Star Admiral, and now USA Today has named 'Rachel' Levine as a 'Woman of the Year'[.] Where are the feminists??"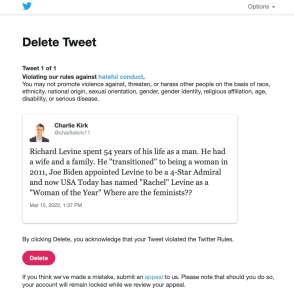 Twitter said that the tweet was in violation of the "rules against hateful conduct." Twitter claims that naming Levine's biological sex and noting Levine's given name was "hateful." The rule states that users "may not promote violence against, threaten, or harass other people on the basis of race, ethnicity, national origin, sexual orientation, gender, gender identity, religious affiliation, age, disability, or serious disease."
The account would be restored if Kirk deleted the tweet.