(100percentFedUp.com) Just when you think the left can get neither more stupid nor more disgusting, they manage to do both. In the wake of the Supreme Court's 6-3 decision overturning Roe v. Wade, many liberal politicians are venting their anger at a well-deserved loss.
The decision made by the Supreme Court returns the issue of abortion to that of the states' discretion, with 26 states already poised to ban or heavily restrict access to infanticide.
Regrettably, this ruling does not outlaw abortion; it simply (and finally) eliminates the constitutional "right" to abortion, which means states can now legally ban it.
However, Democrat politicians, in their meltdowns, are acting as though the SCOTUS decision is banning abortion. It is not. Each Tweet or statement is irate, erroneous, and flat-out stupid.
Starting with Alexandria Ocasio-Cortez's Tweet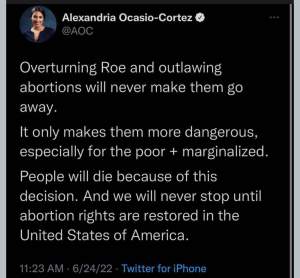 Without a trace of self-awareness, she claims that "outlawing abortions will never make them go away. It only makes them more dangerous." The same is infinitely more true of banning guns, yet she is one of the loudest proponents of gun control laws. Additionally, the poor and marginalized, the biggest victims of abortion, are whom she claims abortion protects the most. She also claims that people will die because of this decision, ignoring the millions of babies it will save.
Her entire statement, in short, makes no sense.
Next, we have washed-up Hillary Clinton.
Most Americans believe the decision to have a child is one of the most sacred decisions there is, and that such decisions should remain between patients and their doctors.

Today's Supreme Court opinion will live in infamy as a step backward for women's rights and human rights.

— Hillary Clinton (@HillaryClinton) June 24, 2022
Hillary seems to miss the point of what makes having a child sacred. It's not the "decision… between patients and their doctors" that most Americans consider sacred. It's the actual birth of the child. Which abortion prevents.
Nancy Pelosi has a similarly bad take.