(Daily Mail) The scale of destruction in southwest Florida continues to become apparent in the wake of Hurricane Ian, with new photos showing how the monster storm devastated coastal communities.
Fort Myers Beach, a town of about 5,500 on one of the barrier islands off Fort Myers, was '90 percent' destroyed in the storm, one official said.
'I made it about two-thirds down the island and I'd say 90 percent of the island is pretty much gone,' Fort Myers Beach Town Councilman Dan Allers told CNN.
Unless you have a high-rise condo or a newer concrete home that is built to the same standards today, your house is pretty much gone,' he added.
Walking amid the wreckage of destroyed marinas on Friday morning, the mayor of Fort Myers, the larger mainland city, marveled at the Category 4 storm's destructive power.
'Just look at the boats. These are some large boats. And they've been thrown around like they were toys,' Mayor Kevin Anderson told CNN. 'They were thrown around like they were nothing.'

The Sanibel Causeway is seen before and after Hurricane Ian, which destroyed the bridge span in at least five places. The causeway is the only link between the Fort Myers mainland and Sanibel and Captiva Islands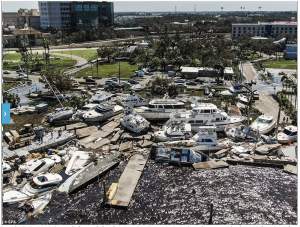 A marina in Fort Myers is seen before and after the storm. Fort Myers Mayor Kevin Anderson says that boats and sections of docks were 'thrown around like toys'
Fort Meyers Beach is seen before and after the storm hit. The barrier island town was devastated in the hurricane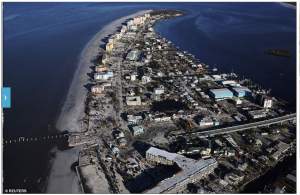 Fort Myers Beach, a town of about 5,500 on one of the barrier islands off Fort Myers, was '90 percent' destroyed in the storm, one official said
FORT MYERS BEACH: Jake Moses, 19, left, and Heather Jones, 18, of Fort Myers, explore a section of destroyed businesses following Hurricane Ian
Anderson said that some 200 residents had been rescued from their homes after the storm barreled through on Wednesday.
Amazingly, he said that there were no confirmed fatalities in Fort Myers itself, which was the epicenter of destruction as the storm made landfall.
A handful of deaths in the storm have been confirmed, but 48 hours after the hurricane first hit Florida, the hundreds of fatalities predicted by the sheriff of Lee County, which includes Fort Myers, have so far not materialized.
Florida's First Lady Casey DeSantis said on Friday the National Guard is distributing food and water, and 100,000 tarps are being handed out to temporarily protect homes with roof damage.
'A lot of these spots, other than a slab of concrete there's nothing left for these people, they're not sure what to return to,' she said in an interview with Fox News.
As well, Ian is not finished wreaking havoc, with the storm set to make another landfall in the Carolinas on Friday as a Category 1 hurricane, putting the entire South Carolina coast under hurricane watch.
Meanwhile in Florida, stunning before and after shots captured the devastation to the area around Fort Myers, with homes leveled, ships swept on to land and fires breaking out through ghost town neighborhoods.
It will take months to clean up all the damage, and perhaps longer. Some of the destruction will be irreparable.
From trees getting ripped out of the ground to signs being ripped apart, traffic lights crashing onto roadways and some buildings simply being destroyed, the impact was everywhere and almost nothing was spared.