(PM. )A two bedroom, three bathroom single family home has been placed on the market in Portland's Southeast neighborhood for $330,000.
There's a catch though. The buyer that ultimately ends up purchasing the home will be tasked with removing squatters that have taken over the property.
The home, placed for sale on Realtor.com, features photos only of the outside of the house, which sits at 5256 SE Flavel St. These exterior photos show copious amounts of trash strewn around the backyard, as well as numerous broken cars in the driveway.
"Unfortunately there are squatters on the property and seller does not have resources to remove them and is willing to negotiate the price for a buyer to take the risk of closing," the house's listing reads on Realtor.com.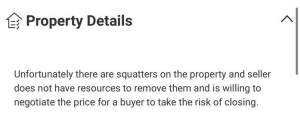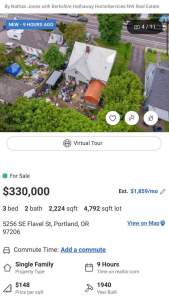 The neighborhood has reportedly become a hub of homeless people taking advantage of vacant homes, with neighbors saying that they now live in fear for their safety.
According to KGW8, neighbors have begun barricading unused doors in their houses, investing in security systems, and buying things like baseball bats intended for self protection.
"It's unbearable to watch your whole city become a dumpster fire," said Annette Benedetti, who lives near homes on Southeast 67th Avenue that have sat abandoned and have since had numerous homeless people move in, with RVs lining the streets.
"It's a living nightmare," added Dustin Shannon, another neighbor who has lived there for 19 years. "There's no peace of mind, there is no sleeping well at night — every little noise, I'm jumpy."
Shannon's backyard is next to one of these Southeast Portland vacant homes, and he frequently picks up needles and trash from a path that runs behind his house, an area that he no longer lets his grandson play in.
"It just gets worse and worse by the day, more and more of them are showing up," he said. "Stolen cars are showing up, they've got a pile of garbage out back that is taller than me."
Both Benedetti and Shannon describe violence and shootings in the area, with limited police response due to staffing shortfalls.
"We've barricaded our backdoor at this point, blocked it off," said Shannon. "We're not gun proponents, but we've invested in that. We've got a security system in place and I keep a bat at both my back and front door."
Another one of these vacant homes stands at the corner of SE Division Street and 76th Avenue, just a couple miles away from Flavel st.
This property previously had homeless people living in it, and caught fire. The owner of the property had plans to remodel the home, but the plans fell through shortly before the fire.
Now, a couple lives in the run down home, with neighbors telling KATU2 that the pair scopes the neighborhood for things to take from cars and houses.
"We feel very vulnerable here because they're so bold. We have people coming in and out of there are nighttime thieves. The one guy had all black on. Except for his white socks that were up to here. And you could see these white socks walking up and down and that's all you could see. That's how bold they are," said neighbor Dennis Kelley.