From NewJerseyMonitor.com…
Abortion access throughout the country could soon depend on a patchwork of state laws if a U.S. Supreme Court dominated by conservatives overturns the constitutional right it established nearly 50 years ago.
The court's decision on Mississippi's 15-week abortion ban is expected sometime within the next two months. But state legislatures have been racing to prepare for the expected landmark ruling by shepherding new, vastly different pieces of legislation to their governors.
Red states — which are responsible for a majority of the new laws — have enacted some of the strictest limits on abortion in decades. Meanwhile, blue states have sought to secure abortion access as a fundamental right within their borders, as well as prepare for out-of-state women seeking to terminate their pregnancies.
There's much more to come, those familiar with the case predict. "If the court upholds the 15-week ban without a ton of guidance as to what other bans could be enforceable, there will be a six-week ban on their doorstep within a year or two," said Elizabeth Nash, principal policy associate for state issues at the Guttmacher Institute, an abortion rights research organization.
In total, 23 states now have laws on their books that would clamp down on abortion access should the U.S. Supreme Court rewrite abortion law or even overturn Roe v. Wade, though some laws are under challenge. They include Arizona, Florida, Idaho, Kentucky, Oklahoma and Wyoming.
Sixteen states have laws that are expected to protect access, according to the Guttmacher Institute. That group includes Colorado, Maryland, New Jersey, Oregon, Vermont and Washington.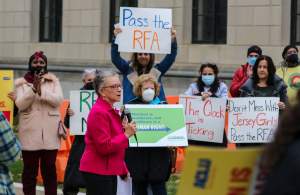 There are several states, however, where it's not entirely clear what abortion laws would look like in the long term if the court acts to limit abortion access.
Alaska, Florida, Illinois, Iowa, Kansas, Minnesota and Montana's state supreme courts have separately ruled that each state's Constitution protects the right to an abortion, according to the Center for Reproductive Rights.
So even if the U.S. Supreme Court overturns a national right to terminate a pregnancy and conservative lawmakers in those states want to enact restrictions, they might have problems — though some Republican-controlled states are already challenging the abortion protections in their states' constitutions.
Several state governments are also prone to swinging between Democratic and Republican control, a trait that could lead to a change in abortion policy following each election.