From TheGatewayPundit.com…
What has happened to the rule of law in this country?
The Supreme Court ruled yesterday that mail-in ballots with missing dates can be counted in the state.  This insane ruling will affect future elections significantly.  Next, they'll rule that signatures and names aren't necessary.
Pennsylvania is already one state with the largest amount of voter fraud per the 2020 Election.  We saw President Trump's lead of around 700,000 votes disappear days after the election as the corrupt election officials in the state prevented poll watchers from observing events for days until enough ballots were manufactured to give Biden the lead in the state.
Now the state can disregard any date on a ballot which is required by state law.
The Hill reports: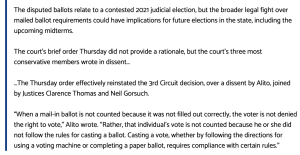 There is no mention why the other "conservative" justices voted for the ruling.  Likely, because it doesn't make sense.