(TownHall) Surging U.S. gas and food prices have prompted residents of Southern California to head south of the border to do their shopping and fill up their tanks.
According to NewsNation, some Californians are even driving hours to save money.
Californians are driving HOURS to Mexico for groceries and gas.

"It's much cheaper to do it down here — everything is a lot cheaper down in Mexico." pic.twitter.com/Sd2A61idNI

— RNC Research (@RNCResearch) August 11, 2022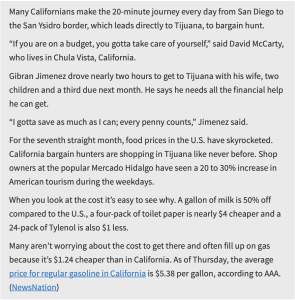 Inflation hit a peak in June, with consumer prices reaching 9.1 percent year-over-year.
Meanwhile, because the Consumer Price Index showed annual inflation dropped slightly to 8.5 percent in July, the White House claimed the U.S. had "zero inflation."