(PM.) In the city that frequently preaches "hate is not welcome here," Seattle Pride has once again banned LGBTQ police officers from attending the annual celebration in uniform, even though the department is among the most progressive in the nation.
The Seattle Police Department, which is home to more than 100 employees belonging to the LGBTQ community, has marched in the annual Pride parade since 1994, but their participation became an issue in 2020 when anti-police riots swept across the nation.
Earlier this month, the Executive Board of Seattle Pride, Krystal Marx and Carmen Rivera, announced, "Due to the history of Stonewall Sunday and the fact that Pride was birthed from a riot against police brutality, Seattle Pride will not permit police uniforms, police vehicles, any police insignia, or police propaganda to walk in any parade contingency."
This was met with criticism from Seattle's interim police chief, along with officers, commanders, and civilians that look forward to walking proudly in the annual event alongside colleagues, family, and friends, as they have faced their own internal struggles stemming from being members of the LGBTQ community.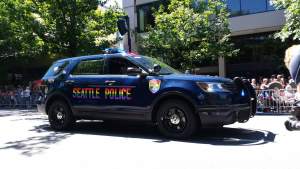 In a statement released by Seattle PD on Wednesday, Detective Aimee LaClaire described the Executive Board's decision as "discriminatory, demeaning, hateful and antiquated."
"It is heartbreaking as a human race that we are going backwards in terms of tolerance, acceptance, and inclusivity," Det. LaClaire said. "Those who have a history of being oppressed should know better than anyone how it feels to be discriminated against."
She explained that it was especially hurtful because they are singling out Seattle police officers while allowing other city employees to represent their departments.
The Pride Executive Board claimed that the reason they decided to ban Seattle PD was due police officers' involvement with Stonewall. However, Det. LaCLaire said that she and her wife chose to get married on Stonewall Sunday in honor of the gay rights movement and slammed the board for not evolving.
"I would expect the gay pride board members would be evolved enough to allow me to march in the parade despite the fact that I am a cop. In fact, they should honor the progress that has been made by the sacrifices of those before us," LaClaire said. "They should be proud that there are so many gay members within the rank and file of the Seattle Police Department. They should feel honored that we want to march with the community members we have sworn to protect and serve."
The annual Pride event is an important day for Seattle police officers to engage in community outreach, while also showing the department's diversity.
But because Seattle PD officers will not be allowed to march in the parade representing the department, Chief Diaz announced that officers have "respectfully declined" to participate.