From DailyWire.com…
An NAACP chapter head who played a major role in pushing Loudoun County schools to embrace racial rhetoric claims she didn't ask that the school system give black students more favorable treatment than poor children and English language learners, contrary to what public records suggest.
Michelle Thomas, president of NAACP Loudoun, claims a typo-ridden document on official NAACP letterhead that was submitted to Loudoun County Public Schools (LCPS) was written by an imposter who sought to make the NAACP look bad.
"LCPS must address equitable access for African American students first," said the document, first obtained by a parent activist under a Freedom of Information Act request and reviewed by The Daily Wire. "THIS LCPS ACTION PLAN IS TO COMBAT SYSTEMIC RACISM not to address other races, gender, [English language learners], socioecomic [sic] status or student with disabilities."
The document said "equity for most" would be achieved once the district addressed complaints that black students have been denied equal opportunities in schools.
Black households in Loudoun have a median income of $112,000 and are vastly outnumbered by both Hispanics and Asians.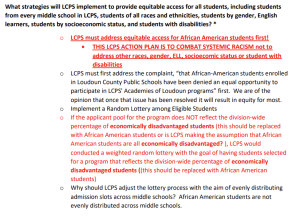 In an interview with The Daily Wire, Thomas said she was an "advocate for all children," and said the document had not been authorized by her. "Anybody can put together the NAACP letterhead. If it's not signed by the president, it's not an official statement. … That is not beneath the people who want to bring the NAACP down to make such a document," she said.
Thomas came to Virginia after Florida authorities wanted her on a felony warrant, and later spent lavishly while repeatedly skipping out on tax bills and declaring bankruptcy, records show.